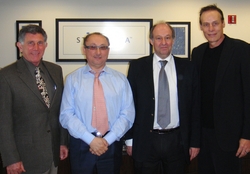 We are delighted with the outcomes for this study as well as the insights that someone of Dr. Hernigou's stature can bring to a study of this kind
San Diego, CA (PRWEB) March 18, 2009
Stemedica Cell Technologies, Inc., ("Stemedica"), a leader in adult stem cell research and manufacturing, received the results today from a Stemedica-sponsored clinical study conducted by renowned stem cell researcher and clinician Professor Philippe Hernigou, MD, Ph.D. The approved clinical study featured Dr. Hernigou's treatment of non-union bone injuries using autologous stem cells, allogeneic stem cells and comparative traditional treatment therapies.
"The results that Dr. Hernigou presented to our Company's leadership are both exciting and profound. First of all, the results reaffirm our assumptions about the short and long term safety of adult stem cells in general and our mesenchymal bone marrow stem cell line in particular. Secondarily, study results clearly showcase the regenerative nature of adult stem cell therapy in comparison to other traditional treatments", said Dr. Nikolai Tankovich, Stemedica's President and Chief Medical Officer. "We are delighted with the outcomes for this study as well as the insights that someone of Dr. Hernigou's stature can bring to a study of this kind", Dr. Tankovich commented.
The year-long study conducted by Dr. Hernigou and his staff included sixty patients who experienced tibia fractures that wouldn't heal. The study was a part of an on-going, ten year study involving nearly four hundred patients by Dr. Herningou using stem cell therapy and traditional treatment of non-union bones and joints. The Stemedica study results gave clear evidence that the use of adult stem cells provided greater healing capability in a shorter period of time with less infection. "I started treating non-union injuries using autologous stem cells back in 1990. This was followed by the clinical application of allogeneic stem cells seven years later in 1997. Through each and every year of the last seventeen years, and through each and every study I'm involved in, I become more convinced of the important role that adult stem cells play in the healing and bone regeneration process", said Dr. Hernigou.
Dr. Hernigou, MD, is Chief of the Orthopedic Surgery department at the Henri Mondor Hospital and is a professor of orthopedic surgery at the University of Paris XII, France, a position he has held since 1989. He is regarded as a pioneer, and one of the world's foremost authorities, in the use of stem cells in orthopedic surgery. Since 1990, Dr. Hernigou has developed new treatments for osteonecrosis first with cementoplasty, then with stem cells and later with growth factors. He has applied these techniques to more than 1,600 patients - from treating osteonecrosis in relation to sickle cell disease to the use of bone marrow grafts in the treatment of delayed unions and non unions. Dr. Hernigou has published more than 200 international scientific publications and has participated in more than 100 scientific conferences all over the world. He is a member of the International Orthopedic society and member of the International Hip Society.
About Stemedica Cell Technologies, Inc.
Stemedica Cell Technologies Inc. (http://www.stemedica.com) is a specialty biopharmaceutical company that is committed to the development and manufacture of best-in-class adult stem cells for use by approved research institutions and hospitals for pre-clinical and clinical studies. Within the United States, the Company is currently developing regulatory pathways for stroke, traumatic brain injury and wound repair. Outside the United States, Stemedica provides its adult stem cells to hospitals and research centers that are conducting studies under protocols approved by the appropriate regulatory agencies. These studies are focused on the treatment of neurodegenerative disease, sight restoration and wound repair. Stemedica is based in San Diego, California.
Media Contact for Stemedica: Dave McGuigan at dmcguigan (at) stemedica.com
# # #