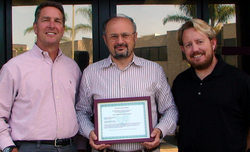 San Diego, CA (PRWEB) September 1, 2009
Stemedica Cell Technologies, Inc., ("Stemedica"), a leader in adult stem cell research and manufacturing, announced today that it has been granted a license by the State of California's Food & Drug Branch to manufacture stem cells for human clinical trials. This Drug Manufacturing License recognizes Stemedica as being compliant with California law and the applicable provisions of the Code of Federal Regulations.
"This is an important development for Stemedica." said Nikolai Tankovich, MD, PhD, President and Chief Medical Officer of Stemedica. "With this license we become an even stronger worldwide leader within the stem cell industry. Our stem cells and stem cell-derived factors can now be purchased by pharmaceutical and biotech companies, research institutions and medical facilities conducting approved human clinical trials. As more and more organizations get involved with stem cell research and clinical trials, including drug discovery programs, Stemedica's ability to service their needs becomes a critical asset to the organization and to the industry."
"This stamp of approval positions Stemedica as one of only a few companies in the world capable of manufacturing and delivering its own unique multiple cell products and factors. The Company also has the ability to custom manufacture for select companies. These dynamic capabilities give us a significant point of advantage in the marketplace." said Roger Howe, PhD, Executive Chairman for Stemedica.
Stemedica has dedicated significant financial and human resources over the past four years in preparation for securing this license. The government's rigorous inspection and approval process has included: a comprehensive, in-depth audit of Stemedica's manufacturing process and procedures; examination of Stemedica's Quality Systems; interviews with facility management; and an onsite inspection of the facility.
"We're very proud of the hard work, dedication and professionalism of the team that has made this possible." stated Maynard Howe, PhD, Stemedica's Vice Chairman and Chief Executive Officer. "Their experience and expertise has been instrumental in assuring that our facility meets regulatory compliance requirements. With the approval and licensing process behind us we can now focus our efforts on manufacturing the highest quality stem cell products."
About Stemedica Cell Technologies
Stemedica Cell Technologies, Inc. (http://www.stemedica.com) is a specialty biopharmaceutical company that is committed to the development and manufacturing of best-in-class adult stem cells and stem cell factors for use by approved research institutions and hospitals for pre-clinical and human clinical trials. The company has currently filed a pre-IND request with the FDA in preparation of IND submissions for stroke and wound repair. Stemedica is headquartered in San Diego, California.
Media Contact for Stemedica: Dave McGuigan at dmcguigan (at) stemedica.com