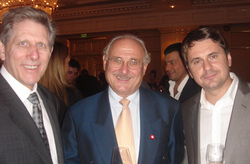 San Diego, CA (PRWEB) September 17, 2009
Dr. Nikolai Tankovich, President of Stemedica, delivered the keynote speech at the Crossing Visions Summit held in Moscow from September 14th - 16th. His presentation at a forum of top Russian and Swiss political, economic and business leaders featured advances in stem cell technology. The Swiss delegation invited Dr. Tankovich, not only for his scientific expertise, but as an example of an on-going scientific collaboration that Stemedica has established between Switzerland and Russia.
"We are delighted that Dr. Tankovich has accepted our invitation to be the key note speaker at our collaborative forum in Moscow. His expertise in stem cells places him among the premier researchers and clinicians in regenerative medicine," stated Eric Maire, Senior Director Economic Development, State of Vaud, Switzerland.
At the forum, a delegation of over 100 leaders from Switzerland's government, business and biotech sectors met with over 300 of Russia's executives and policy makers. The purpose of the forum was to further commercial relationships between the two countries. During the forum, a number of collaborative agreements between the two countries were signed paving the way for new forms of long-term, forward-looking cooperative relationships.
"We are especially pleased with the outcome of this forum and believe it has been an example of the intensification of the ties that have, and continue to, bind Russia to Switzerland," said Walter B. Gyger, Ambassador of Switzerland to the Russian Federation. The Ambassador further stated, "We are very pleased that Stemedica, a prime example of collaboration between Switzerland and Russia, has chosen Switzerland for its International Headquarters. Its advancement and leadership in the stem cell industry is very impressive and we look forward to supporting them in their research, development and manufacturing efforts."
"I am truly honored to have been selected by the Swiss Government to present Stemedica's cutting edge stem cell technologies to this conference on innovation and science," said Dr. Tankovich. "The research and development collaboration between Russia and Switzerland fits Stemedica's tactical and strategic initiatives as we already have on-going business and research operations in these two great countries as well as in important marketplace leaders like the United States and Korea. We're delighted with the enthusiasm and long-term commitments being made at this Forum as well as the media interest that this event has generated here in Russia. Such interest and support bodes well for the entire stem cell industry."
Maynard A. Howe, PhD, Stemedica's Vice Chairman and CEO was also in attendance at the Summit. Dr. Howe emphasized the importance of these strategic relationships. "Stemedica is committed to working with the world's best and brightest as we work to build a better future for the stem cell industry as well as those who will benefit from our collective efforts. This type of alliance fosters the kind of technology sharing in the biotech and pharmaceutical industries that will soon be changing the lives of millions suffering from debilitating diseases and conditions."
Dr. Tankovich and other Stemedica colleagues will continue to present at national and international conferences like the Crossing Visions Summit as Stemedica further establishes itself as a leader in the stem cell and biopharmaceutical industries.
About Stemedica Cell Technologies, Inc.
Stemedica Cell Technologies Inc. (http://www.stemedica.com) is a specialty biopharmaceutical company that is committed to the development and manufacturing of best-in-class adult stem cells and stem cell factors for use by approved research institutions and hospitals for pre-clinical and human clinical trials. The company is currently developing regulatory pathways for stroke and wound repair. Stemedica is headquartered in San Diego, California.
For more information regarding this Media Release or Stemedica Cell Technologies, contact Dave McGuigan at dmcguigan (at) stemedica (dot) com.
###