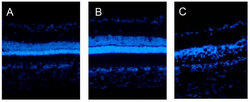 We knew the team assembled had the experience and expertise to fully explore how stem cells and stem cell factors might be applied in the possible treatment of Retinal Degeneration that may apply to Retinitis Pigmentosa in the future
San Diego, CA (PRWEB) July 1, 2009
Stemedica Cell Technologies, Inc., ("Stemedica"),a leader in the manufacturing and development of clinical grade allogeneic adult stem cell technology, has discovered a significant breakthrough in the use of human stem cells and stem cell factors for the potential treatment of degenerations of the retina and retinal pigmented epithelium. Retinal degenerations include diseases such as Retinitis Pigmentosa, which are hereditary conditions in which abnormalities of the retinal pigmented epithelium (RPE) within the eye lead to progressive vision loss. According to one of the study's Principle Investigators, Dr. Paul Tornambe, "The results from this pre-clinical experiment are exciting. It allows researchers and clinicians to push the envelope in the quest to use stem cells to modulate diseases like Retinitis Pigmentosa." There is currently no medical treatment that can completely cure Retinitis Pigmentosa - an eye disease that affects approximately 1,500,000 people on a worldwide basis each year.
An international consortium of prominent researchers and clinicians were assembled by Stemedica to fully explore the application of its proprietary lines of stem cells and stem cell factors for treatment of Retinal Degeneration in a pre-clinical environment. Their discoveries provide great promise for treating this disease at a clinical level. "We knew the team assembled had the experience and expertise to fully explore how stem cells and stem cell factors might be applied in the possible treatment of Retinal Degeneration that may apply to Retinitis Pigmentosa in the future", said Nikolai Tankovich, MD, PhD, Stemedica's President and Chief Medical Officer. "While there have been similar results achieved with our stem cells and factors in the experimental treatment of neurological diseases, we did not expect that these efforts would provide the kind of breakthrough results that have been achieved in our ophthalmological study."
The study team was comprised of Edwin Boldrey, MD, a Retina and Vitreous Specialist from Northern California and Charter Member of American Society of Retina Specialists and by Paul Tornambe, MD, of Retinal Consultants in San Diego, California. Dr. Tornambe is a past President of the American Society of Retina Specialists. Other members of the study team included Khristo Takhchidi, MD, PhD; Director General, Natalia Gavrilova, MD, PhD, Professor; and, Olga Komova, MD from the famous Fyodorov Eye Microsurgery Institute in Moscow, Russia. Supporting the principle investigators were Alexander Revischin, PhD, and Irina Saburina, MD, PhD from the Russian Academy of Sciences and by Alexei Lukashev, PhD, of Stemedica's Research Lab in San Diego, California.
Dr. Tornambe identified several observations that resulted from the group's efforts, "There were two very encouraging findings: RPE stem cells injected into the suprachoroidal space prevented the animal's RPE cell's degeneration as well as preventing degeneration of the overlying photoreceptors proven by very objective ERG testing and histopathology. Secondarily, and even more interesting, is that the fellow contra lateral eye also showed a beneficial effect. This crossover effect suggest this treatment stimulated upregulation of other factors, yet unknown, which decreased the rate of degeneration in the fellow eye. Degeneration of RPE cells occur in many other human retinal diseases such as age related macular degeneration. It is very important to temper initial enthusiasm with the test of time, however, this study strongly suggests, at least in this animal model, that certain kinds of stem cells and factors can modify a disease process."
The 18 month pre-clinical study was implemented at the Fyodorov Eye Institute using Stemedica's proprietary multiple cell technology. Three different types of human stem cells (hSC) were used in the study - retinal pigment epithelium (RPE), neural (NSC) and cilliary body (CB) - all obtained from human donor tissue. Various cells were injected into rats with hereditary pigmented degradation of retina. One eye of each participating rat served the treatment eye and the other eye served as the control eye. Healthy non-dystrophic and non-treated (normally dystrophic) animals were also used as independent control groups. Electroretinography (ERG) and immunohistochemical (ICH) analysis was performed on both eyes. "What is very impressive is the immune privileged feature of all three kinds of human stem cells (RPE, CB, NSC) in xenotransplantation. This immune privilege amplifies the significant promise of allogeneic donor stem cells in the treatment of retinal degenerative diseases", stated Dr. Edwin Boldrey.
The research team compared the efficacy of each of the three cell types. A summary of the results yielded the following observations and discoveries:
1. The study showed a statistically significant gain (77%) in the treated eye (with RPE cells) over the control eye of the same animal. However, both the treated eye and the control eye were approximately 10 times more active (response to ERG) compared to non-treated (normally dystrophic) control animal.
2. The RPE and NSC cells were effective in preserving the thickness of the outer nuclei layer of the retina.
3. A contra lateral effect was observed between the test and control eyes. As a result, both eyes exhibited significant improvement. It is believed that the positive outcome in the control eye was achieved through the systemic release of cytokines; growth and other important factors; peptides; and, molecules from stem cells transplanted into the treated eye. This phenomenon is referred to by Stemedica as "The Factor Release Effect" and branded by the company as StemedicaFRE™. These factors, circulating in the blood flow, effect and mobilize endogenous stem cells. Stemedica believes improvement in the contra lateral eye is a 'Factor Release Effect' rather than a Sympathetic Ophthalmic effect which is very rare. Stemedica discovered the presence of these endogenous RPE stem cells in adult retinas several years ago. This original research demonstrated that these RPE stem cells acquired embryonic markers (Nanog and Oct-4) in adult humans.
"Stemedica has filed a number of patent applications to secure the rights for these discoveries - the use of our stem cells and their factors in the treatment of a variety of neurodegenerative diseases and conditions. Based upon the results from the work of this luminary group, we have focused our legal protection and Intellectual Property efforts to include the treatment of Retinitis Pigmentosa and ways to prevent its development and progression", said Timothy Brown, MS, JD, Director of Stemedica's Intellectual Property Department.
The results from the study will be presented at the Retina Congress in New York, September 30, 2009. The Retina Congress is a worldwide gathering of the most established and accomplished retina doctors in the world. The Congress is sponsored by the American Society of Retina Specialists, the Retina Society and the Macular Society and represents over 2,000 retina and eye specialists from 54 countries.
"The discovery of the effect of stem cell factors supports our other clinical evidence substantiating how stem cells and stem cell factors can be isolated and used for the treatment of complex medical conditions. Clinical studies in countries outside of the United States have already demonstrated the efficacy of Stemedica's stem cells and their factors in the experimental study treatment of diabetic retinopathy and other conditions. Based upon this breakthrough discovery and validation of our previous evidence, Stemedica has begun negotiations with a select number of potential strategic partners. Our goal is to rapidly advance our findings into a comprehensive clinical application", said Maynard A. Howe, PhD, CEO and Vice Chairman of Stemedica.
Edwin Boldrey, MD
Dr. Edwin Boldrey is currently a Clinical Associate Professor of Ophthalmology at Stanford University and is President of Northern California Retina Vitreous Associates. He is a graduate of Northwestern University Medical School in Chicago and completed a Vitreo-Retinal Fellowship at Barnes Hospital, Washington University, St. Louis. He is the recipient of honors and awards from the American Academy of Ophthalmology, the Heed Ophthalmic Foundation and the Department of Ophthalmology, University of California, San Francisco. He was the Executive Secretary-Treasurer of the Western Retina Study Club, and is a Fellow of the American College of Surgeons. He is a member of Ophthalmological Organizations including: American Academy of Ophthalmology, The American Society of Retina Specialists, The Retina Society and The California Association of Ophthalmology. He is the author of more than 30 peer reviewed publications and has presented 114 papers and courses.
Paul Tornambe, MD
Dr. Paul Tornambe is former President of the American Society of Retina Specialists and presently sits on the Board. He has been a member of over a dozen Ophthalmology and Professional Medical Societies including Fellow - American College of Surgeons, American Academy of Ophthalmology, and California Medical Association. He has participated as Chief of Surgery and Chief of Staff at Pomerado Hospital and participated on the Board of Scripps Health Physicians and actively operated at both Scripps La Jolla and Pomerado Hospitals. He completed his Retina Fellowship training at Barnes Hospital, Washington University, St Louis. He is the recipient of numerous awards from the American Academy of Ophthalmology; American Society of Retina Specialists and was named among 'The Best Doctors in America, 2000-2003' along with 'Best Doctors in San Diego, 2002-2005'. He was recognized by the American Academy of Ophthalmology on their Centennial as a physician who made a major contribution in the field of Retina over the last 100 years for his work with gas bubbles to repair retinal detachments. Tornambe is the author of over 40 major peer reviewed scientific publications.
Khristo P. Takhchidi, MD, PhD
Khristo P. Takhchidi, is the Director General of the S.N. Fyodorov Federal Institution 'Eye Microsurgery Complex', Professor and the Chairman of Ocular Diseases of the Moscow State Medical University. He received his MD degree in 1976 at Sverdlovsk State Medical University. In 1987 he was appointed the Director of the Ural Branch of the Intersectional Research and Technology Complex 'Eye Microsurgery'. The IRTC Ural Branch was built and put into operation under his direct leadership. As the Chief of the Clinic, over 260,000 operations were performed and approximately 800,000 patients received diagnostic - consulting service. In 2001 Takhchidi was appointed the Director General of the S.N. Fyodorov Federal Institution 'Eye Microsurgery Complex'. He is an author of over 250 scientific publications, has been the Chair of Ophthalmology Society of Russia since 2005 and was appointed the Chief Expert for ophthalmology of the Russian Federal Inspection for Public Health and Social Development in 2006. Takhchidi is the Fellow of numerous International Ophthalmic societies and a recipient of many prestigious and honorable national and international awards.
The Fyodorov Center for Eye Microsurgery
The S.N. Fyodorov Federal State Institution "Eye Microsurgery Center" is the leading clinical and research ophthalmological center in Russia with over 4,000 researchers and medical doctors. The Center, along with its 11 affiliated branches including Clinics in Russia's largest cities, treat 700,000 patients annually, performing 50% of the highly technological ophthalmic surgeries and over 30% of all ophthalmic aid in Russia.
About Stemedica Cell Technologies, Inc.
Stemedica Cell Technologies Inc. (http://www.stemedica.com) is a specialty biopharmaceutical company that is committed to the development and manufacture of clinical grade allogeneic stem cells for use by approved research institutions and hospitals for pre-clinical and clinical studies. Within the United States, the Company is currently developing regulatory pathways for stroke, traumatic brain injury and wound repair. Outside the United States, Stemedica provides its adult stem cells to hospitals and research centers that are conducting studies under protocols approved by the appropriate regulatory agencies. These studies are focused on the treatment of neurodegenerative disease, sight restoration and wound repair. Stemedica is based in San Diego, California.
Media Contact for Stemedica: Dave McGuigan - dmcguigan at stemedica.com.
###