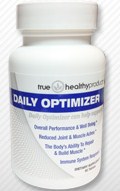 Fans of popular fitness supplement Stemulite are being introduced to a new fitness formula, Daily Optimizer, and for a limited time the nutrition company is including 2 free protein powder tubs as a Holiday Special.
(PRWEB) December 16, 2011
Stemulite, a popular fitness supplement was originally marketed to increase muscle mass, decrease muscle recovery time, normalize hormones and enhance the body's own healing process. True Healthy Products, an all natural fitness and nutrition company sold the product for years and has developed their own fitness supplement. As an introduction to their new product, the company is offering for a limited time, two free two pound tubs of their Protein Power Mix Nighttime formula.
The special can be viewed here on the company's website: http://www.truehealthyproducts.com/limited-time-offer-special
According to the company's CEO, Jan Hrkach, "We took all the good attributes of Stemulite; we added and changed a few things to make it even better and the outcome was the Daily Optimizer. Our new product was designed by a certified nutrition specialist and formulator. We had many people test the product who were Stemulite users like Roger Craig, 3x Super Bowl winner and Natalie Waples, Fitness Model & Figure Champion, just to name a few. They are now users of our new product, Daily Optimizer as well as other new products we have created."
Andrew Wood, formulator for the Daily Optimizer created the all natural formula to help build muscle in five different ways:
1. Helps support the ability to increase blood flow.
2. Assists immune system response to promote healing from physical activity.
3. Helps create a neurotransmitter responsible for signaling from the brain to the muscles.
4. Promotes metabolism of calcium, phosphorus, and magnesium for strong bones and good muscle functionality.
5. A natural hormone DHEA is included to help normalize blood hormone levels, especially those that are responsible for building muscle. DHEA, converts in the body into other hormones safely (as long as the recommended dosage is followed).
The company also offers a wide range of all natural products from weight loss products, dark chocolate, skin care and sports nutrition. To learn more about the Daily Optimizer or Protein Power Mix Nighttime Formula and incorporating them in a daily workout visit the company's website at: http://www.truehealthyproducts.com.
Toll Free: 888-400-2920
2460 N Courtenay Parkway, #210
Merritt Island, FL 32953
USA
# # #