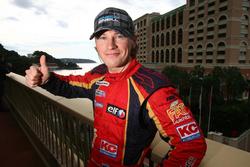 Unlike many of his competitors, Sten did not come up through the ranks in a traditional manner with the advantage of learning the ropes from years in the brutal world of European and World Championship karting;
New York, NY (PRWEB) September 5, 2010
With Sten's current success, in the high profile and fiercely competitive, World Series by Renault, you would be forgiven for thinking that this determined young Estonian racer had years of top class racing behind him and a wealth of experience under his belt. In reality Sten has only been competing in motorsports since 2001, and in international competition since 2004. Unlike many of his competitors, Sten did not come up through the ranks in a traditional manner with the advantage of learning the ropes from years in the brutal world of European and World Championship karting; in fact he wasn't even able to participate in a full season of car racing until 2009, due to some mid season injuries in 2008, and lack of budget prior to that.
Sten has not had the luxury of a lot of his contemporaries, who would have grown up and started their careers in a culturally advanced and modern environment. The reason is simple; Sten grew up and was educated in the Baltic state of Estonia which until 1991 was effectively in "darkness" as a Soviet Satellite State. Social and Economic reform began in 1991, and since then Estonia has grown positively from it's long dark period. The nation has been quick to learn from the culture of Western Europe, although motorsport culture did not develop at anywhere near the same rate as it's social or business culture. Before Estonia's independence, opportunities for motorsport involvement were very limited as individuality, imagination and awareness of Western Society were suppressed.
The whole world is familiar with and the images of the Berlin Wall coming down following Roanld Reagan's proclamation to Soviet leader Mikhail Gorbachev, "Mr. Gorbachev, bring down that wall". The dismantling of the wall effectively marked the end of what British Prime Minister of the time, Winston Churchill, famously named the "Iron Curtain that descended across Europe". The impact on the life and environment behind that "Iron Curtain", is in reality, almost completely impossible for anyone to imagine or comprehend, except of course for those who lived behind it and lived through those times.
With Estonia's emergence as an independent state, opportunity and change came like a tidal wave. Sten had the desire to participate in a sport and it's intricacies that were hardly known in Estonia. Previously there had been little opportunity to be involved in motorsport, but this only reinforced Sten's desire to comprehend and embrace a mentality and philosophy which was in many ways alien to him and Estonia.
Sten immersed himself in the depths of an unknown world of motorsport, with a passion to learn and succeed, and once he had started, just treading water, he truly understood the enormity of what he had yet to learn. With a skewed view of the right way forward, but still quickly advancing through the ranks of motorsport, he also had to overcome the enormous task of adjusting culturally, while at the same time learning a new language. Perceptions are not changed overnight, even when you are eager to learn and take on new experiences, and for some time this hindered his progress.
As any avid motorsport enthusiast will know, age is a big factor in motorsport perceptions, the popular perception being "the younger, the better". The key to changing perceptions in Sten's case was 'maturity', a valuable tool that many would benefit from employing more consistently. Going against popular opinion is never easy, but Sten set out to prove that age is only a number, and your talent is what really matters once you are in the car. After his rather shaky start, Sten's hard work over the last two years and his ability to adapt quickly to the requirements of the sport, have earned him a good reputation and respect in the motorsport world. Winning races in the highly competitive Renault World Series does not come easily, particularly against highly rated drivers with backing from the Red Bull Junior Team and the Ferrari Academy, but it is all the more rewarding in the recognition it brings him for his achievements and the associated kudos.
With very little experience to draw from in his homeland, Sten has quickly and professionally advanced through the ranks. He has taken on huge challenges and conquered them, where more immature drivers would possibly have taken longer to solve the problems, or failed completely to understand the importance, or master the requirements. His added maturity, drive for success and diligent attitude give him an advantage over many of his competitors, despite his comparative lack of in-car experience.
In fact, it is fair to say, that being from a different mould to that of many young racing drivers has been an absolute advantage for Sten, and this, when combined with his immense self belief, total commitment, determination and tenacity, have effectively given him an unfair advantage.
Sten's achievements are a great lesson to many an ambitious young sportsman, or businessman, as he is an abject lesson in how to harness the strengths you have, recognise your weaknesses, and then find the people and the ways to maximise the strengths and minimise the weaknesses.
For his Estonian countrymen, he is a great role model for developing youth and proof that self belief, hard work and pursuing your dreams with great desire, can in the end bring you great rewards.
Sten's story continues, and his ambitions reach far beyond his current achievements. There are still walls to break down and inaccurate perceptions to overcome, but Sten has proved that none of these things have stopped him to date, and he does not intend to let that change in the future.
Sten Pentus has proven his skills in the heat of battle, and if ambition, dedication and tenacity count for anything, he has a bright and successful future ahead of him in his chosen profession.
Sten Pentus official page
Sten Pentus main sponsor KC Grupp
###