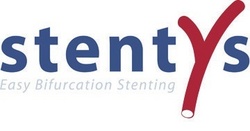 PARIS (PRWEB) May 12, 2008
Dr. Grube will make his Stentys presentation during the 'Glimpse to the future' session on bifurcations on Thursday (May 15) morning.
The annual 'EuroPCR' medical meeting contributes to the advancement of education and information about existing and new technologies in the fields of cardiovascular intervention.
About Stentys
Based in Paris, Stentys intends to make treatment of blocked coronary artery bifurcations as simple and effective as a conventional stenting procedure. The Company has developed the world's first next-generation dedicated stent for treatment of blocked coronary artery bifurcations that is designed so that hundreds of thousands of patients might avoid open-chest surgery. To date, the Stentys bifurcated stent has been successfully implanted in patients as part of the OPEN 1 trial, taking routine interventional time to complete; the patients were released from the ICU within hours of implantation of the Stentys bifurcated stent and were discharged from the hospital shortly after the procedure.