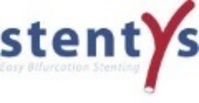 The fact that the Stentys procedure is identical to the current standard techniques while allowing more treatment options with side-branch access suggests that this platform has the potential to offer a practical alternative to conventional stenting procedures in treating blocked coronary artery bifurcations
PARIS (PRWEB) January 31, 2008
Stentys has developed the world's first next-generation dedicated drug-eluting stent for treatment of blocked coronary artery bifurcations that is designed so that hundreds of thousands of patients might avoid open-chest surgery. This sixth case, similar to the five previous cases, took routine interventional time to complete; the patient was released from the ICU within hours of the implantation of the Stentys bifurcated stent and was discharged from the hospital shortly after the procedure.
"This sixth consecutive clinical achievement underscores our conviction that the Stentys bifurcated stent will enable interventional cardiologists to offer their patients the next generation of dedicated bifurcated-stenting procedures," said Stentys' CEO and co-founder, Gonzague Issenmann.
"The fact that the Stentys procedure is identical to the current standard techniques while allowing more treatment options with side-branch access suggests that this platform has the potential to offer a practical alternative to conventional stenting procedures in treating blocked coronary artery bifurcations," said Dr. Patrick Serruys, who is head of Erasmus Medical Center's department of interventional cardiology and a member of the Stentys scientific advisory board.
Coronary artery disease is caused by fatty lesions that narrow the coronary artery's inside diameter (stenosis), consequently reducing the blood flow and depriving the heart muscle of oxygen. The dramatic consequence of this blockage is an often-lethal myocardial infarction (heart attack). Bifurcation is the area where one main vessel branches out into two smaller vessels, one being the continuation of the main vessel, and the other often referred to as the side branch. Narrowings at a bifurcation site are quite common. Indeed, 18 percent of percutaneous coronary interventions involve a bifurcation stenosis. Of those, restenosis (re-occurrence of the blockage) occurs in 20-25 percent of bifurcations treated with drug-eluting stents (DES).
The patent-pending innovation of Stentys' bifurcated stent is that the stent-opening for the side branch can be created anywhere in the stent after it is implanted in the vessel. In short, the procedure's success is independent from accurate positioning. The Stentys procedure is performed in three simple steps: (1) Stentys is implanted in the main vessel with an approximate positioning, like a standard stent; (2) the cardiologist chooses the optimal location for the side branch opening by inserting a balloon through the stent mesh, which is a cath lab-standard procedure; and, (3) the balloon inflation disconnects the mesh and creates the opening--Stentys' self-expanding property allows the in situ modeling of the stent to fit the patient's unique arterial anatomy.
Based in Paris, Stentys intends to make treatment of blocked coronary artery bifurcations as simple and effective as a conventional stenting procedure.