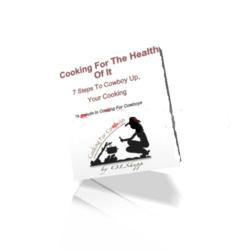 Preparing and planning ahead is the first step to, maybe, saving your family's lives.
Cody, Wyoming (PRWEB) May 29, 2013
Cooking For The Health Of It; 7 Steps To Cowboy Up Your Cooking, O.L. Shepp's upcoming book of: healthy recipes, short stories and cowboy lore offers the basic steps in preparing to feed your family in the face of catastrophe.
O.L. Shepp, a nurse/ cowgirl, shares tools to ensure and promote wellness through simple and healthy cooking, because good food and happy tummies are a cowboy's preventive medicine.
The first step to cooking healthier is in getting prepared. Steps to preparing to cook healthier are first in preparing your kitchen to feed a crowd for an unexpected celebration, an emergency or simply a spur-of-the-moment-branding.
Five steps to prepare your kitchen are outlined below:
1.) Step One- Growing your own *Planting a garden/fresh box
2.) Planning menus
3.) Stocking the freezer
4.) Stocking the pantry
5.) Rotating the inventory
Planning and preparing to feed your family over any extended length of time is a harlequin task to ponder. Preparing and planning ahead is the first step to, maybe, saving your family's lives.
Healthy, staple foods must become what we cook. Cooking For The Health Of It, focuses on the necessity of stocking up on adequate supplies and resources. Keeping the healthiest and the freshest supplies available for cooking is a daunting chore, and especially where the growing season is exceptionally short.
Growing your own foods is a joyous undertaking; though, hard work, severe weather and volatile markets demand for dedication and perseverance.
Farmer's markets are a splendid alternative to physically growing your own, especially if you have a brownish thumb as my own.
Though, I do strive year after year to grow a garden, and get by with producing the bare minimal quantity that my family can use.
Dibs to all you Master Gardeners reading, hats off to you! Everyone appreciates a beautiful garden, not to mention a productive one. An easy, no fuss garden is a must have for all busy moms and caregivers whom don't take great privilege in spending excessive hours in the soil.
Here is O.L.'s sure-fire, no hassle gardening method, because it doesn't take acres to feed your family. Simple garden boxes, or frames are all that is needed. Clear area or patio and arrange boxes as desired. Once boxes are located for best direct sunlight, fill box with layers of the following:
1.) Newspaper
2.) Straw or wood chips
3.) Lawn clippings, leaves or mulch
4.) Top soil or potting soil
5.) Plant seeds according to directions
6.) Water
There is no weeding, no rotor-tilling involved in this method. Of course, fill each box logically, using more top soil than the other ingredients, keep well watered and enjoy!
O.L. Shepp has extended the Free eBook giveaway of, Cooking For The Health Of It. The eBook giveaway is now for the entire book. The complete cookbook will be yours when released. Opt in at olshepp.com for, Cooking For The Health Of It by June 10th.