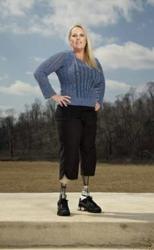 Stephanie is a courageous person who inspired our team with her story of action to save her children and her commitment to rebound from her injuries. --Thorntons, Inc.
South Orange, New Jersey (PRWEB) April 17, 2013
A little more than a year after a tornado hit her town of Henryville, Indiana, Stephanie Decker, who lost both of her legs saving her children, has signed with Eagles Talent Speakers Bureau to share her story of overcoming adversity, change, and motivation as a keynote speaker.
As her house began to disintegrate around her during the tornado in March of 2012, Stephanie shielded her son and daughter with her body. Her dream home fell in on top of her, crushing her legs, but because of her quick actions, Stephanie's children were unscathed. Stephanie, as well as others around her, thought it was a miracle that she even survived and made it to the hospital. It was then that doctors determined that parts of both legs would need to be amputated.
Stephanie has embraced her new life with a spirit of thankfulness. She has turned her recovery and rehabilitation around to use it as an inspiration for others. Her strength, courage, and positive attitude caught the eye of Ellen Degeneres, as Stephanie has been a special guest on her show a few times since the tornado. Stephanie made it a goal to walk on her own on Ellen's show, which she did in December, 2012. Less than four months after her accident, she walked, on her own, into the Oval Office to visit President Barack Obama.
In addition to working on a book and movie about her experience, she has set another goal to become one of the top in-demand motivational speakers.
"I'm really excited to be sharing my story and helping to inspire others," Said Stephanie Decker.
Stephanie is available as a keynote speaker for organizations and markets such as corporate, associations, government, and non-profit, as well as colleges and universities. Her presentation is based on real-life inspiration and insight as to why setting goals are important, as she had to reset her own goals in life to walk again. Stephanie also focuses her keynote on the subject of change, as she and her family's life has been changed and they have had to overcome many obstacles.
Stephanie is also using her story as a platform to bring awareness for the Stephanie Decker Foundation. The Stephanie Decker Foundation supports two major areas:
1. Children with prosthetics: Stephanie is passionate about children and sports. She has made it a mission to help children with prosthetics enjoy sports and the same athletic opportunities as others.
2. Accessibility to leading-edge prosthetic products: Stephanie considers herself fortunate to have access to the latest high-tech prosthetic technology. However, there are many people without access to the latest technology available. Stephanie has set out to help those people receive access to cutting-edge technology which will help them with their mobility. 
If organizations are interested in inviting Stephanie Decker to speak at a conference, convention, business meeting, or lecture series event, contact Eagles Talent Speakers Bureau at 1-800-345-5607.
Eagles Talent Speakers Bureau was founded in 1979 with the single focus of making a positive impact on organizations by providing keynote speakers, top motivational speakers, business thought leaders to clients all over the world for their meetings, conferences, and special events. We believe in people who inspire, educate, and entertain.