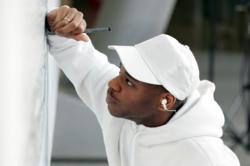 "Stephen Wiltshire has amazed the world with his incredible gift of drawing and painting amazingly detailed cityscapes ... his drawings show a masterful perspective, a whimsical line and reveal a natural innate artistry"
Christie's
London, UK (PRWEB UK) 6 November 2012
Stephen Wiltshire MBE, Hon.FSAI. first came to public attention as a young boy in the 80's via a BBC documentary titled the "Foolish wise ones".
Mute and unable to communicate with the world around him, it was soon discovered that the only way of expressing himself was through drawing. His first words were "pen and paper", just like Picasso's.
The same year he published his first book with 26 drawings, each referring to a London landmark, A for Albert Hall, B for Buckingham Palace and so on. With the help of the London Alphabet, Stephen started to develop his speech and by the age of 9 he was fluent. Soon further books followed and his third topped the Sunday Times Bestsellers list.
Today, he is a well known artist, honoured with an MBE for his services to the art world, opened his permanent gallery in Central London and has now been named one of the 100 most influential people for the 4th time by Powerlist 2013.
He continues touring the world, working on his new ideas and accepting commissions with a 6 - 8 month waiting list.
25 years on Stephen revisited his favourite London landmarks to create his new collection, which is now available as a luxury poster titled The London Alphabet via his official website or at The Stephen Wiltshire Gallery, 5 Royal Opera Arcade, Pall Mall, London, SW1Y 4UY.
For further information, images & videos please contact:
Zoltan Szipola
The Stephen Wiltshire Gallery
zoltan(at)stephenwiltshire.co(dot)uk
Tel: 020 7321 2622