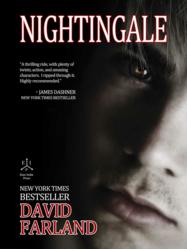 I have an idea for a novel, but how do I make it the bestselling YA novel of all time?
St. George, UT (PRWEB) November 23, 2011
Nightingale, released October 13th, is catching excellent praise as reviews start to reel in. But reviewers are remarking that David Farland's latest novel at first seemed a lot like Twilight, by Stephenie Meyer, especially the book cover. Farland claims those similarities are mostly illusory, pointing out that the only similarities between the covers are that they both set a mood with black and red, colors known to appeal to the Young Adult audience both books seek.
In 2002, Twilight author Stephenie Meyer approached her writing professor at Brigham Young University and asked, "I have an idea for a novel, but how do I make it the bestselling YA novel of all time?" Her teacher, David Farland suggested, "First of all, you need to really combine the wonder and romance.."
David Farland was already a New York Times Bestseller, so he knew the ropes. Not only did he have ties to some of the biggest franchises of all time—Star Wars and the Mummy—along with his own hit fantasy series, but he'd set the Guinness World's Record for the largest book signing, and was a lead designer for one of the world's bestselling videogames.
"I suggested that she make her tale a contemporary fantasy, one set in our world, but with a difference," Farland recalls. "At the time, that was an odd choice. No one was publishing much contemporary fantasy. But Harry Potter had come out as a movie just a few months earlier, and I suggested, 'Harry Potter is going to be bigger than anyone suspects. In a couple of years, publishers are going to wake up and realize just how much they need good contemporary fantasy lines."
Farland believed that Harry Potter would be huge from the start. A few years earlier he had been asked by the book's publishers, Scholastic, to help select which of their books to push big during the coming year. He proposed Harry Potter over all of the other candidates, ignoring the company's marketing department's complaints that it was "too long for kids."
Stephenie Meyer went on to write Twilight a few months later. "That's not uncommon for a writer," Farland comments. "The idea for a novel comes in the twinkling of an eye, but it takes time to really mature to the point where it just seems to burst out of you."
Now Farland is releasing his own big young adult novel, Nightingale, which he hopes will attract more of a masculine audience, as well as the female audience that Stephenie Meyer did. "Imagine Twilight, but written both for young men and young women," Farland suggests. "Take it a step further, and imagine it written with adults in mind, too.
"Releasing this book, I feel a bit like Obi Wan Kenobi in Star Wars, where he meets Darth Vader on the Death Star. Darth says to him, 'Now the circle is complete. Now I am the master, and you are the pupil!' Stephenie Meyer has become so popular, she's certainly the master of this genre."
Not that Stephenie Meyer is much like Darth Vader, Farland teases. "She's much prettier. She was a quiet student, but passionate and brilliant. She has an admirable intellect, and I expect even greater things from her. I don't recall her ever having that rasping breath of Darth's."
David Farland's Nightingale bears some similarities to Stephenie Meyer's Twilight. They are both contemporary fantasies. Both involve secret wars between two great forces.
In fact, there are enough similarities that fans of Stephenie Meyer may feel at home with Nightingale. When asked if this was intentional, David Farland answered, "Not really. I gave Stephenie my best counsel about how to make a novel like Twilight a phenomenal best seller. When I decided to write my own contemporary young adult fantasy, I naturally followed my own advice. The biggest difference between our books is that Twilight is written mainly for teenage girls, a very focused audience, whereas I wrote Nightingale for a broad audience. That alone spurred a lot of differences. But if people see them as similar, I'll take that as a great compliment."
Nightingale tells the story of a young man named Bron Jones, who is abandoned at birth. Raised in foster care, he's rejected from home after home for being "too strange." At age 16, he's the ultimate loner, until he's sent to a new foster home and meets Olivia, a marvelous teacher. She recognizes that Bron is something special, something that she calls a "Nightingale," a creature that is not quite human.
Suddenly epic forces combine to claim Bron, and he must risk his life, and the lives of everyone he cares about, to learn the answers to the mystery of his birth: "What am I? Where did I come from?"
Farland propels novel reading into the 21st century in releasing this novel as an "enhanced book" with its own illustrations, animations, soundtrack, and even video clips and notes, in an effort to create a more engrossing form of entertainment. "People don't yet understand how captivating a novel can be," Farland says, "if handled properly."
The novel is also available as an e-book, audiobook, and will soon be out in hardback. To preview Nightingale's enhanced edition from any computer, go to http://www.nightingalenovel.com.
David Farland is a New York Times bestselling author of over fifty novels and anthologies. A former Brigham Young University professor and currently teaching writers through workshops, Farland has trained and helped to discover many new bestselling authors such as Brandon Mull, Brandon Sanderson and Jessica Day George. He can be found at http://www.davidfarland.com.
###