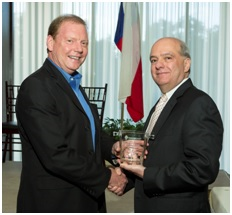 Houston, TX (PRWEB) May 31, 2014
GrowthForce (http://growthforce.com/) CEO Stephen King was recently recognized by the Houston CPA Society for his efforts to advance financial literacy in his area schools. King received the 2013-2014 Stan and Margaret Voelkel Contribution to Education Award at the annual awards presentation of the Houston CPA Society, a chapter of the Texas CPA Society (TSCPA).
As chairman of the Northeast Satellite Committee of the Houston Chapter, King spearheaded a campaign to improve accounting education in the Humble Independent School District. The Kingwood resident and Humble ISD parent helped advocate for a pilot curriculum qualifying the accounting classes at Kingwood High School for honors credit.
As a result, Kingwood was the first high school in Texas to offer honors accounting starting in the fall of 2011. Since raising the level of the class, the number of Kingwood students enrolled in accounting has grown from 19 students in 2008 to 138 this school year.
"I am honored to receive this recognition from my peers," said King, about the award. "However, I am most proud that we have created a greater awareness of the CPA career by encouraging more students to take accounting in high school. Hopefully, that will translate to more students majoring in accounting in college."
King credits Rebecca Parish, the accounting teacher at Kingwood High School and a CPA, for alerting him to the challenge of getting students interested in her accounting class. Parish explained that the high school graduation plan requiring four years of math and science left less time for students to take electives, such as accounting. In addition, many of the top students ignored the class because of its on-level grade point, opting for higher credit honors courses instead.
In 2009, King brought Parish's suggestion to the Houston Chapter Board that the TSCPA lobby the Texas Education Agency (TEA) to accept Accounting classes as a math credit under the new high school graduation plan.
While the state did not make accounting a math credit, House Bill 5 passed by the 83rd Texas Legislature did change the high school graduation criteria to require students to select a career pathway starting in 2014-2015. Business is one of the tracks with accounting falling in that track.
To further expand the attraction of high school accounting, King contacted Lone Star College - Kingwood about providing dual credit for the class and solicited their advice on how to prepare high school accounting teachers to instruct at a college-level.
As a result of King's work with the Houston CPA Society, Parish attended a three-day accounting workshop for high school teachers conducted by the accounting department at Kansas State University. With updated knowledge and the support of Liz Rogers, the assistant principal over Career/Technology Department and her principal, Melissa Hayhurst, Parish received approval to adopt the pilot honors-level curriculum at Kingwood.
King's high-energy advocacy efforts and Parish's success story convinced the TSCPA organization to sponsor the Accounting Pilot and Bridge Program (APBP), a workshop to prepare high school accounting teachers to instruct honors classes. King notes that a goal of the program is to encourage The College Board to add accounting to its Advanced Placement (AP) curriculum by demonstrating that high school teachers are trained and using the college-level curriculum.
The campaign to elevate the interest in accounting among high school students has come at the right time. According to the American Institute of Certified Public Accountants, half of the CPAs today will reach retirement age in the next ten years, foreshadowing a surge in the demand for accounting professionals.
"Steve's award is very much deserved," stated Parish, who has been an accounting educator for 22 years. "The APBP (workshop) which he has helped support and bring to Texas has a critical role in attracting the best and brightest students to the accounting profession. I feel that high school is one of the best times to expose students to the career potential of accounting. It draws students before they have invested time and money in other college majors or careers."
About GrowthForce
GrowthForce is a recognized industry leader in providing cloud-based bookkeeping & controller services and delivering timely, actionable financial intelligence to growing businesses. By leveraging teams, technology and the Cloud, GrowthForce's dedicated U.S. based service professionals optimize and integrate clients' accounting and financial systems, standardize and automate processes, and perform the daily/weekly/monthly financial functions from a secure hosted environment. For more information, visit http://growthforce.com.