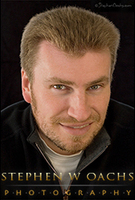 As a photographer, I am privileged to see many amazing places. With every scene I capture, my goal is to stir a similar emotion in the viewer to what I felt being there--just as this Anasazi Indian ruin captured my imagination during my visit
San Jose, CA (PRWEB) May 21, 2009
The photograph, Ancestral Dimension, conveys more than beautiful warm color and the drama of a striking shaft of light in the darkly confined underground space of an ancient Indian kiva. The evocative image, captured by acclaimed Fine Art Photographer, Stephen W, Oachs, pulls the viewer inside to experience the close, rough sandstone walls, the low and encroaching ceiling, and an almost haunting sense of tranquility.
"As a photographer, I am privileged to see many amazing places. With every scene I capture, my goal is to stir a similar emotion in the viewer to what I felt being there--just as this Anasazi Indian ruin captured my imagination during my visit," said Oachs. "I'm excited, and fortunate, that my work will be seen by millions of visitors to the Smithsonian Castle. I am honored with this rare opportunity to have my photograph as a part of the World View Exhibit."
The upcoming World View exhibit showcases 30 of the 50 finalists selected from over 17,000 international entries in Smithsonian Magazine's 6th Annual Photo Contest. The exhibit, which will include the Indian Kiva photograph by Stephen Oachs, will be on view from July 1, 2009 through January 17, 2010 at the Smithsonian Castle at the famed National Mall in Washington DC.
About Stephen W. Oachs
Stephen W. Oachs is an award-winning photographer, successful entrepreneur and technology veteran. Completely self-taught, Stephen's unique and distinctive style is earning him recognition as one of today's finest digital nature photographers. He has received numerous awards and achievements, including being named wildlife photographer of the year in 2007 by the National Wildlife Federation, and best nature photographer in 2008 by National Geographic Magazine for his work photographing the endangered snow leopard. His work has graced the pages of such notable on and offline worldwide publications such as National Geographic, Popular Photography, Outdoor Photographer, National Wildlife Magazine, Smithsonian Magazine and many others. Stephen's photography is sold online and through art exhibits and galleries in the northern California/Bay area. He is available for presentations and speaking engagements, and conducts public and private on-location photography workshops. To contact Stephen or learn more about his workshops, visit his Website and online gallery at StephenOachs.com.
###