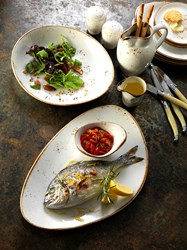 Contemporary and Timeless, Traditional and Edgy
(PRWEB) October 22, 2013
White is the latest color to be added to the Steelite Craft collection and can now be seen in Stephensons catering equipment showroom.
As part of the Steelite International winter launch, the new color will sit alongside Craft Terracotta, Brown, Blue and Grey.
Managing Director at Stephensons, Henry Stephenson said: "We are pleased to announce that the newly launched Steelite Craft White range is now available.
"Craft has always proved to be popular, the introduction of grey earlier this year sparked real interest and we hope to impress once again with this latest color."
Steelite International Marketing Director, Heather Lovatt said: "Craft White is at once contemporary and timeless, traditional and edgy."
Each of the colours will intermix to create a unique collection of craft-inspired, authentic ware.
Heather Lovatt said: "It's worth remembering that you don't have to buy into a complete range, you can dramatically enhance your food presentation by adding just one Craft piece to Freestyle or Taste.
"Add hotspots of color and serve signature dishes on any of the Craft colours to add exclusivity to your food presentation."
Boasting thermal shock resistance, heat and chill retention, stain resistance and glaze damage resistance, Craft crockery is able to withstand the daily rigors of a busy catering environment.
As part of the Steelite Performance range, Craft additionally benefits from a lifetime edge chip warranty.
Henry Stephenson said: "Visit our showroom in Stockport and be inspired by the pristine whiteness of the underlying glaze and the texture of the reactive firing effects, all of the Craft colours are now available to order online."
Based in Stockport, near Manchester, Stephensons stock over 5,000 lines of catering equipment in their cash and carry. The supplier boasts the largest catering equipment showroom in the north and is open to the trade.
For more information about the Craft collection contact the sales team at Stephensons, or visit their website http://www.stephensons.com.