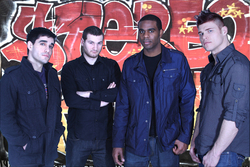 ...fortunate to have an opportunity to perform live in Times Square for the fans..
New York, NY (PRWEB) March 28, 2011
Stereo Crowd aims to break down racial and social barriers in music by cleverly blending traditional genres to create New York City's specific sound of Urban Alternative music. On Friday night, March 25th, Stereo Crowd made their first television appearance; taking their talent to the stage of "All Night With Joey Reynolds" (Radio legend, Rock 'n Roll Hall of Famer), a brand new late night talk show, running on NBC New York Nonstop, NBC's recently-launched digital channel. They performed "Up and Away" a song featuring Freddy Fuego, with an upbeat feel-good groove about striving to live life right; and "Who Do You Love", talking about the importance of letting the people around you know how you feel, instead of hiding your true feelings. The show will be airing on Monday, March 28th at 11:59pm via Cablevision NY/NJ 109, Cablevision CT 118,Time Warner Cable 161,Comcast 248,Verizon FiOs 460, RCN 28, and DTV-4.2.
"Stereo Crowd has been fortunate to have an opportunity to perform live in Time Square for the fans who have been with us since the beginning.", says VFerg of Stereo Crowd. "We represent a combination of many music styles that are the result of being surrounded by the diversity of New York City." With their undeniable stage presence and crowd engagement, they have quickly created a diverse and loyal following.
The band is also very excited to open for Girl Talk, the crowned prince of the Mash Up genre, April 9th at Wagner College. The concert is being held at Spiru Sports Center, located at One Campus Road , in Staten Island, NY 10301. Doors at 8pm.
All these events center around the release of their debut single, "I Got it," (featuring Ava, ScriyL and introducing Patty Cakes) and the music video of the same name, directed by Ali Powell, a NYC based NYU graduate the band met through his continued attendance at their shows. . The video opens with famed music industry veteran, Barry Bergman, playing an eccentric version of himself criticizing a band he is not yet familiar with and a song he has yet to hear. VFerg simply explains, "Don't worry. I got it."
The narrative and the song speak to just how much can, and needs to be done by independent artists these days to succeed in the new musical landscape; making reference of course to the fact that Stereo Crowd does indeed have what it takes to make a lasting impression.
The single and the video are available at StereoCrowd.com, on YouTube, Vimeo, and Facebook.
Connect on Social Networks:
http://www.StereoCrowd.com
Facebook.com/StereoCrowd
Twitter.com/stereocrowd
Reverbnation.com/Stereocrowdnyc
About Stereo Crowd:
Stereo Crowd, New York City's Ambassadors of Urban Alternative, mix diverse styles of music to create a unique sound they deliver with passion and energy at their live performance. Incubated on the rooftops of South Harlem, Stereo Crowd is blessed with an extended crew of talents. On stage with them you might catch a lady MC, a trombone player, and a soul singer all in one night. Stereo Crowd operates under the belief that there is no limit to the combination of talent possible in a Stereo Crowd performance. The main members: VFerg, Paul-Anthony, Jamie Robinson and Robert Keith; focus on promoting diversity and helping fans unleash their boogie nature.
They have teamed up with multi-platinum engineer/producer Andy Baldwin to ensure their live performance energy is accurately captured on recordings. Stereo Crowd has played many New York venues such as SOB's, Bowery Poetry Club, Public Assembly, Littlefield, House of Yes, Club Love, People Lounge, and many more. They are currently routing a North East tour.
Ali Powell, is an NYC based Director/Producer and an Alumni of The Maurice Kanbar Institute of Film and Television at NYU. He's directed, produced, shot and edited TV Shows, Pilots, Commercial Spots and Music videos. He's currently beginning production on 2 TV pilots and a web series.
For more information, and any press inquiries, contact Olivia Dikambi of I AM PR Agency at
240.291.5448.
Media Contact
Olivia Dikambi |240.291.5448|
I AM PR Agency, LLC
olivia(at)iampragency(dot)com
http://www.iampragency.com
"We Are The Key To Your Success"
###