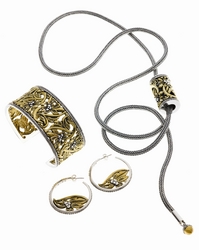 If you look the right way, you can see the whole world is a garden.
New York, NY (PRWEB) October 20, 2009
Frances Hodgson Burnett's classic story "The Secret Garden" tells the tale of Mary Lennox, an orphaned girl who is sent to live with her father's brother-in-law, Archibald Craven. Generally neglected at the manor, she finds solace in the secret garden after finding the key to unlocking it. Carefully tending the abandoned garden leads to a rejuvenated enthusiasm in life for her and leads to miracles along the way. Cynthia Gale, renowned New York-based sterling silver jewelry designer, has created a stunning collection of "green" jewelry based on the organic themes and sentimental values of this classic novel.
Using sterling silver and bronze, the Eco Secret Garden Collection incorporates flower, owl, key, lock and keepsake box motifs. Select pieces also include a quote from the book, "If you look the right way, you can see the whole world is a garden."
Part of Cynthia Gale's socially aware green jewelry line, the sterling is made of 80% recycled silver. A portion of the proceeds from each piece sold is donated to CENYC, the Council on the Environment of New York City, to help fund their programs teaching high school students how to grow their own food and become involved with the city's greenmarkets.
Says Cynthia Gale of her inspiration, "The design process for Eco Secret Garden began in an interesting way. As I brainstormed design concepts in my studio one day, I suddenly became acutely aware of the intricate carvings on the enormous, antique, Indonesian doorway decoration that hangs on my wall. I was inspired by the doorway's carved three-dimensional design elements taken from nature. In combination with my childhood memories of The Secret Garden, the doorway design meshed with old world motifs in sterling silver to become the foundation for this nostalgic collection."
The Eco Secret Garden collection is designed to bring beauty and meaning to the wearer. Cynthia Gale has created the line as a must have for Spring 2010. Questions regarding this collection can be directed to Olga Gonzalez. In addition to this sterling silver jewelry collection, GeoArt by Cynthia Gale features other collections in stores nationwide and at the GeoArtNYC.com website.
About GeoArt by Cynthia Gale:
GeoArt by Cynthia Gale specializes in artisan-crafted sterling silver jewelry. Her signature collections are licensing partnerships with over fifteen of the nation's top museums and cultural institutions and the GeoArt by Cynthia Gale line has evolved from ideas reflecting the rich cultural diversity of New York City and Cynthia's passion for it. The GeoArt philosophy is simple: to create exquisite, quality sterling silver jewelry designs inspired by art and the world around us.
###