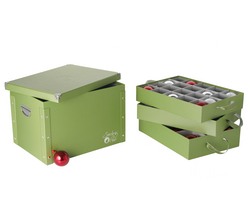 Treasured ornament collections deserve proper storage that will protect them.
New York, NY (PRWEB) December 17, 2007
Sterling Pear™ introduces its Signature Ornament Storage Box™, uniquely designed to protect your cherished holiday collections. Until now, most ornament storage chests have been functional at best, and rarely provide a measure of protection for fragile pieces.
The Signature Ornament Storage Box protects ornaments from getting broken while keeping them contained and organized. The three interior pull-out ornament trays are configured to hold a variety of ornaments of different shapes and sizes, storing a total of 52 pieces (up to 100mm in diameter).
Each tray is padded on the bottom and covered in a silver satin lining, cradling your delicate ornaments in a soft, gentle environment. Individual dividers provide separate sections for each ornament keeping ornaments from bumping against each other and breaking. Additionally, the dividers are all removable and adjustable, allowing consumers to customize the trays to fit their own ornament collection.
What's more, the pull-out trays simplify Christmas tree decorating and take-down by allowing you to set all the trays out so you can easily sort your ornaments, seeing them all at once. You can carry the trays right up to the tree as you decorate.
''Since Christmas ornaments are often heirlooms or have sentimental value they are too important to be stored in old shoe boxes and wrapped in newspaper'' says Sterling Pear co-founder and CEO Janet Hayden. "Treasured ornament collections deserve proper storage that will protect them."
In addition to the Signature Ornament Storage Box, Sterling Pear has designed other styles of ornament storage systems and well as matching stockings, tree skirts, and table runners, among other things. In essence, Sterling Pear aims to be the holiday source for both sophisticated design and ease of use, which is encompassed in Sterling Pear's slogan, "Holiday Elegance Made Simple." The entire line of Sterling Pear products is available at http://www.sterlingpear.com.
Founded in 2007, Sterling Pear is a women owned business based in New York City.
###