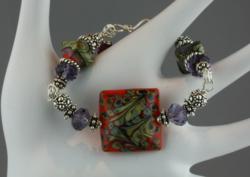 A bead fest event provides an excellent opportunity to assertain all of the wares necessay to complete that special project.
Washington Township, New Jersey (PRWEB) August 15, 2012
All of the wares needed to create timeless treasures or unique, one of a kind jewelry can be found at the bead fest. Some of the items that are available for purchase are: silver and gold wire, all of the tools one could imagine, seed beads, gemstone beads, cabochons, slabs, chain, findings, art clay, and cord….just to name a few.
While attending these events, one must be prepared. The staff here at What a Gem always studies the color trends for the upcoming season, and takes an inventory of items on hand, and items needed. Although wonderful, a bead fest can be quite overwhelming. Have some fresh ideas in mind. Be equipped with a list of needs, and perhaps one or two indulgences. Being prepared saves you from duplicating items that you may already have in inventory and from spending money unnecessarily.
There is nothing like being able to hand select gemstones, cabochons, and slabs. The color, facet, shape and any imperfections can be viewed first hand so that wise choices can be made.
To create a very unique piece, consider artisan crafted lamp work beads. What a talent this is. The skill that is demonstrated with each pull of color and design is magnificent. The lamp work bead can enhance any piece.
Art Clay (silver clay that when fired turns to .999) is one of the favorites here at What a Gem. The staff is in the process of creating new pieces. When working with art clay, creativity can flow endlessly. It is a great deal of work, but so rewarding.
Well it's off to the show. What a Gem will be checking back with all of the wonderful purchases made at the bead fest, and some new creations. Be sure to check out our site.
http://www.ohwhatagem.com provides anklets, rings, bracelets, necklaces, earrings and jewelry for children. All pieces are one of a kind. Some of the pieces can be resized depending on the method used to create them.
Happy shopping!