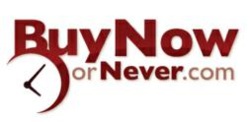 St. Louis, Missouri (PRWEB) August 30, 2012
BuyNoworNever.com recently launched a new line of discount sterling silver jewelry to complete their jewelry categories. The new collection offers a variety of products to choose from including fashionable earrings, rings pendants and necklaces. Many of these jewelry offerings include designer inspired styles and a range of bright colored stones including turquoise, coral and other stones. The new sterling silver jewelry category is sure to have something to suit every shopper's taste.
Keeping consistent with their brand, all sterling silver jewelry pieces at BuyNoworNever.com will save the shopper money. Consumers can save up to 51% off retail prices as seen elsewhere. Products can sell out quickly on this bargain shopper website so consumers are urged to buy now. The launch of the sterling silver jewelry category is just in time for holiday shoppers to get a jump on their shopping, while indulging a little themselves.
About BuyNoworNever.com
Founded in 2010, BuyNoworNever.com is an online store that sells authentic designer handbags, jewelry, watches, women's accessories, home furnishings, rugs and luggage at discounted prices up to 80 percent off retail price. BuyNoworNever.com offers a Low Price Guarantee and a 30-day return policy. To be notified of the latest special offers and promotions, sign up for emails on BuyNoworNever.com, 'like' us on Facebook or follow us on Twitter at twitter.com/buynowornever.