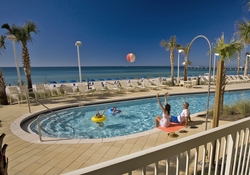 With Sterling Resorts' spring getaway package, families can enjoy Florida's warm spring weather and coastal views - without wearing out their wallets.
Panama City Beach, FL (PRWEB) February 14, 2011
Families looking for a break in price while enjoying a break from winter weather need look no further than Sterling Resorts in Florida's Gulf Coast.
Families who book three nights for stays between now and May 24, 2011 receive the fourth night free. Topped off with unlimited free DVD rentals and two free large pizzas, families can enjoy Florida's warm spring weather without wearing out their wallets.
Sterling Resorts offers more than 1,000 luxurious family-friendly condominium units amid sunset views and warm coastal breezes. Guests enjoy spacious beachfront accommodations that range from cozy cottages on the sand to luxury four-bedroom suites overlooking the Gulf of Mexico. A full range of amenities offer a no-hassle family escape, with fully equipped kitchens, washer and dryer, and private gulf-front balconies. Guests of Sterling Resorts are also treated to many extras rarely available at vacation condominiums as part of the Sterling Plus program: onsite check-in, Wolfgang Puck coffee and Gilchrist & Soames bath amenities.
Plus, this warm-weather getaway to the Gulf just got closer for thousands of American travelers with Vision Airlines recent expansion into 17 new US destinations across the Southeast region beginning March 25, 2011. With regular fares starting at $79 each way, weekly flights into Northwest Florida Regional Airport (VPS) will service major markets that include Atlanta and Savannah, Ga.; Louisville, Ken.; Chattanooga, Ten.; Asheville, N.C.; and Orlando, Fla. These will add to current routes between Miami and Niagara Falls. Southwest Airlines and Delta also offer travelers a wide selection of affordable flights in to the Northwest Florida Beaches International airport (ECP).
In addition to the special Spring Break offer from Sterling Resorts, guests at select locations will also receive exclusive access and discounts to area golf courses, award-winning spas, renowned dining venues and more.
Travelers can keep up to date on Sterling Resorts' special offers by becoming a fan on Facebook, at http://www.facebook.com/sterlingresorts. They can also find information about Sterling Resorts or make reservations at http://www.SterlingResorts.com, or call 1-877-496-1690.
About Sterling Resorts
Sterling Resorts is one of the Southeast United States' leading vacation rental management companies. Sterling's current portfolio includes more than 20 beautiful condominium resorts featuring 1000 units of luxurious vacation homes in Northwest Florida and Mississippi.
Sterling Resorts is a division of Encore Enterprises, which is a full service real estate company focused on Hotels; Resorts; Multi-family; and Retail; headquartered in Dallas, Texas.
Media Contact
Christie Gregovich, Ypartnership, (407) 838-1822 or christie(dot)gregovich(at)ypartnership(dot)com
Jayna Leach, Sterling Resorts, (850) 230-6110 ext 109 or jleach(at)sterlingresorts(dot)com
# # #