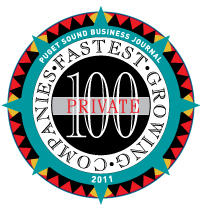 Kent, WA (PRWEB) October 16, 2011
This week Sterlitech Corporation, a leading manufacturer and distributor of laboratory filtration equipment, was recognized by Puget Sound Business Journal as one of the 100 fastest growing private companies in Washington State. Sterlitech is positioned 83rd overall and will be included in a special publication of the Business Journal on October 14th.
Mark Spatz, Sterlitech Corporation Founder and President, attributes his company's success to, "our experienced staff, flexible work environment, and our willingness to branch out into new areas." Sterlitech also received a similar honor last month when Inc. Magazine named the organization as one of the 5000 fastest growing private companies in the United States. As part of its expansion, Sterlitech Corporation has recently added customizable membrane test cell systems for crossflow filtration applications to its bench scale product line.
The Fastest-Growing Private Companies program was launched 17 years ago by the Puget Sound Business Journal to identify and recognize companies speeding to the top of their industries. To be eligible, companies must: be privately held and headquartered in Washington; have at least $500,000 in net revenue in 2008; show an overall growth from 2008 to 2010 fiscal years; and agree to have their net operating revenues with Puget Sound Business Journal.
The 100 Fastest-Growing Private Companies program is presented by the Puget Sound Business Journal and sponsored by Lane Powell, Robert Half International, BDO, Comcast Business Class, and Sound Mental Health.
Puget Sound Business Journal is the region's premier source of business information, serving an unparalleled audience of business and community leaders. In addition to the weekly newspaper, the Business Journal provides daily updates via its web site and email alerts. The company also plays a vital role in bringing the area's leadership community together by hosting a wide variety of events throughout the year, from the Women of Influence awards event to the Washington's Best Workplaces event at Safeco Field. Puget Sound Business Journal is a unit of American City Business Journals, which operates 40 local business newspapers throughout the United States. Visit Puget Sound Business Journal on the web at
http://www.pugetsoundbusinessjournal.com, http://www.facebook.com/pugetsoundbusinessjournal, http://www.twitter.com/psbj.
About Sterlitech Corporation:
Sterlitech Corporation provides superior laboratory products, specializing in flat sheet filter membranes and bench scale testing equipment for a variety of industries, including the occupational health and safety, petrochemical, fossil fuels and biotech industries. For precision and accuracy, Sterlitech's membrane disc filters, filter holders, silt density index test kits, and syringe and capsule filters consistently relied upon to assure exceptional results.
For more information about Sterlitech, visit: http://www.sterlitech.com.
###