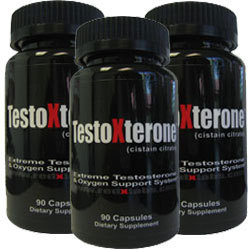 Denver, CO (PRWEB) March 28, 2008
It's touted as being "The First Gene Specific Testosterone Pill" and "hand's down, the most powerful testosterone ever made"… and it may well be.
TestoXterone is touted as a potent steroid alternative from Red X Labs and is a bestselling pro-steroid supplement at one of the leading online retailers of bodybuilding supplements, Zupplements.com. Its dual purpose blend is designed to both maximize the body's production of testosterone while also improving blood oxygen delivery to the muscle cell. This leads to a wide range of benefits that includes increases in gene-specific (naturally produced) testosterone; it helps promote red blood cell production leading to a more efficient delivery of nutrients to the muscle cell and a bigger, better muscle "pump"; and it helps increase oxygen delivery to the muscle for more endurance and improved VO2 max.
According to the manufacturer, the method in which the testosterone is increased is key to the success of TestoXterone. This process leads to the most gene specific testosterone in your system without triggering nasty side effects that come with the use of synthetic anabolic Steroids.
A Dual Action Effect:
The oxygen component of TestoXterone is really what separates it from the rest of the steroid alternatives on the market. In fact, oxygen is believed by some to be more anabolic than testosterone. Many athletes find better oxygen utilization leads to better stamina, less muscle fatigue and overall more muscle capacity. Better oxygen utilization is the key reasoning behind the popular high altitude training done by all types of athletes from cyclists to some of the top UFC MMA fighters.
With all things considered, TestoXterone looks to be a stand out product for bodybuilders. When you combine the long list of benefits with the fact that it's legally available in the U.S. without a prescription, you've got thousands of bodybuilders and elite athletes clamoring to get their hands on it!
Zupplements.com is building a reputation by uncovering those unique and effective supplements that used to be only available to professional bodybuilders and elite athletes. If you are looking for the top of the line, anabolic edge, look no further than Zupplements.com.
For more information about TestoXterone and other unique anabolic agents go online to: http://www.zupplements.com or call toll free at 1-888-987-7748.
###