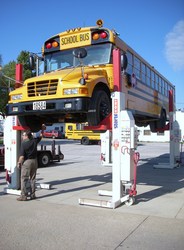 The government is acting based upon evidence submitted by Stertil-Koni, that suggests Gray's patents are invalid
Stevensville, MD (PRWEB) December 10, 2009
Stertil-Koni, the world's leading provider of heavy-duty lifts to the vehicle maintenance industry, today announced some significant developments in its fight against a patent infringement lawsuit by competitor Gray Manufacturing.
In its swift and thorough response to Gray's March 10, 2009 allegations, Stertil-Koni filed a request for reexamination with the U.S. Patent and Trademark Office for the two patents in dispute; US 6,634,461 B1 (461) and 7,014,012 B2 (012). On Oct. 26, 2009, the Patent Office granted Stertil-Koni's request for reexamination for the two patents relating to wireless lifting systems. View both grants of reexamination by clicking here.
"The government is acting based upon evidence submitted by Stertil-Koni, that suggests Gray's patents are invalid," Jean DellAmore, Ph.D., Stertil-Koni USA president said. "The patent examiner looked at Stertil-Koni's prior art, predating Gray's original June 10, 2002 patent filing and felt that the evidence was compelling enough to call for a reexamination."
Reexamination re-opens a patent to new scrutiny by the Patent Office and as a result of a detailed investigation by trained examiners, existing claims may be lost or new claims of a narrower scope may be approved.
The next procedure to be undertaken by the Patent Office is to issue an office action stating its findings regarding whether Gray's wireless products will continue to be patentable. Until then and throughout any ensuing appeals process, U.S. Patent Law allows the establishment of intervening rights if none of the originally-issued claims are found to be patentable.
Intervening rights protect those who might have- in good faith- made, purchased, offered to sell or used a product. Thus Stertil-Koni USA will continue to make, market, distribute and service its own wireless lift products and its distributors will continue to serve the needs of their customers in every respect with regard to Stertil-Koni's wireless lift products.
"We directly or indirectly employ more than 320 American workers and serve the needs of thousands of heavy-duty lift customers across the nation and around the world," DellAmore said. "We simply can't and won't let them down."
Stertil-Koni USA began operations in the state of Maryland in January 1997 focusing exclusively on heavy-duty lift applications. The company grew rapidly to dominate the heavy-duty mobile lift industry in the United States and worldwide. Today, Stertil-Koni USA operates a world-class manufacturing facility in Streator, Ill., that helps supply increasing global demand for the company's full range of heavy-duty lift products.
"As Americans, we believe in competitive fair play and contend that we have every right to make our wireless lift products," DellAmore said. "We will continue to vigorously pursue our rights to the fullest extent of the law and we put our full faith and trust in this nation's Patent Office to adjudicate this matter in a fair and balanced fashion."
Editors Note:
About Stertil-Koni USA
Based in Stevensville, Md, Stertil-Koni USA designs and manufactures innovative heavy-duty hydraulic lifts and accessories for the transportation industry. Stertil-Koni's breadth of lift products meets all ranges of a shop's lifting needs and includes mobile, two-post, four-post, (both wired and wireless versions) in-ground, parallelogram, scissor-style, half-scissors, axle-engaging, in-ground and its unique line of environmentally-friendly lifts. Stertil-Koni USA is the global market leader in mobile column lifts and is the preferred supplier to the world's top brands in the truck and bus industries. Stertil-Koni USA is now the fastest growing heavy-duty lift company in the United States.
To learn more about Stertil-Koni, please visit: http://www.stertil-koni.com
Photos available for this release
Dr. Jean DellAmore, president
Stertil-Koni
(800) 336-6637 ext. 13
http://www.stertil-koni.com
# # #