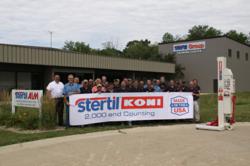 We are extremely proud to manufacture world-class heavy duty vehicle lifts right here in the United States.
Stevensville, MD (PRWEB) June 25, 2012
Stertil-Koni USA, Inc., the leader in heavy duty truck lifts and bus lifts, today announced that its U.S. manufacturing facility, Stertil ALM, located in Streator, Illinois, has just produced its 2,000th unit made in the USA.
Coming off the production line to achieve this historic milestone for the company was the ST 1082 Mobile Column Lift – a superior heavy duty vehicle lift capable of lifting up to 18,000 lbs. per column. The ST 1082 can be used up to a maximum of 28 column lifts in a set and is ideally suited for a broad range of vehicle lifting, including articulated buses, fire and rescue vehicles, military vehicles as well as multiple axle trucks. The Streator, Illinois facility, headed by Allan Pavlick, Vice President, Stertil ALM, also manufactures Stertil-Koni's patented scissor lift, well known as the ECOLIFT, as well as its highly regarded platform lift, called the SKYLIFT.
In making today's announcement, Stertil-Koni USA President, Dr. Jean DellAmore, stated, "We are extremely proud to manufacture world-class heavy duty vehicle lifts right here in the United States. Our team and our products embody this sense of pride and Stertil-Koni's ongoing dedication to quality."
About Stertil-Koni USA, Inc.
Stertil-Koni is the global market leader in heavy duty vehicle lifts – bus lifts and truck lifts – and is the preferred supplier to the world's leading companies in the truck and bus industries. Stertil-Koni's breadth of lift products meets all ranges of lifting needs and includes mobile, two-post, four-post, in-ground lifts, parallelogram lifts, half-scissors and the innovative axle-engaging, in-ground, scissor-style heavy duty hydraulic lift configuration. In the United States, under the leadership of Dr. DellAmore, Stertil-Koni USA, Inc. has achieved double-digit annual sales growth every year since its incorporation in Maryland in 1997. The company was recently awarded US Patent 8,191,865 for its innovative ECOLIFT heavy duty scissor lift. Stertil-Koni U.S.A. is headquartered in Stevensville, Maryland and has a major manufacturing facility in Streator, Illinois.