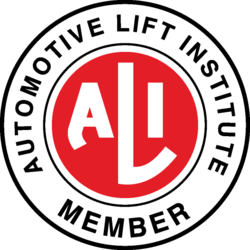 The ALI Gold Label, indicating product certification, is fundamental to ensuring the highest quality standards in the lift industry.
STEVENSVILLE, MD (PRWEB) July 02, 2012
With the growing demands on today's heavy duty vehicle lifts, industry leader Stertil-Koni today emphasized the importance of product certification by the Automotive Lift Institute (ALI) combined with a regular program of scheduled maintenance and annual lift inspection to ensure maximum performance and operational safety.
Certification, as ALI notes on its website, "is a system whereby an independent, third-party organization determines that a manufacturer has the ability to produce a product that complies with a specific set of standards. Certification further authorizes the manufacturer to use the controlled label of the third party on listed products representing the certified model." Another component of the program is that certified products "undergo periodic re-evaluation and are required to be produced within the requirements of a documented quality program."
In making today's announcement, Stertil-Koni USA President, Dr. Jean DellAmore, stated, "The ALI Gold Label, indicating product certification, is fundamental to ensuring the highest quality standards in the lift industry. It assures the customer that a particular lift model is in electrical and mechanical compliance with established and agreed-upon standards." Dr. DellAmore further noted that ALI does not issue conditional or partial certifications. "In fact," Dr. Dellamore observed, "ALI notes that a 'lift is certified and bears a third-party certification label or it is not certified.' That's powerful."
Stertil-Koni today also stressed that heavy-duty vehicle lifts should be serviced regularly in accordance with the manufacturer's recommended schedule. "Safety is paramount," Dr. DellAmore emphasized, "and routine servicing is the way to go." He also added that Stertil-Koni concurs with ALI on the important topic of lift inspections. "We support ALI's recommendation that vehicle lifts be inspected at least once per year, or more frequently if specified."
Concluded Dr. DellAmore, "The combination of certification, servicing and inspection are three key components that can clearly elevate heavy duty lifting safety and performance to new heights."
About Stertil-Koni USA, Inc.
Stertil-Koni is the global market leader in heavy duty vehicle lifts – bus lifts and truck lifts – and is the preferred supplier to the world's leading companies in the truck and bus industries. Stertil-Koni's breadth of lift products meets all ranges of lifting needs and includes mobile, two-post, four-post, in-ground lifts, parallelogram lifts, half-scissors and the innovative axle-engaging, in-ground, scissor-style heavy duty hydraulic lift configuration. In the United States, under the leadership of Dr. DellAmore, Stertil-Koni USA, Inc. has achieved double-digit annual sales growth every year since its incorporation in Maryland in 1997. The company was recently awarded US Patent 8,191,865 for its innovative ECOLIFT heavy duty scissor lift. Stertil-Koni U.S.A. is headquartered in Stevensville, Maryland and has a major manufacturing facility in Streator, Illinois, which recently produced its 2,000th vehicle lift manufactured in the USA.