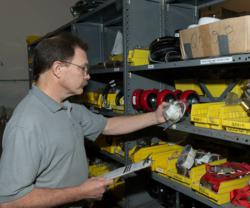 Garage operators and fleet managers must factor availability of spare parts into any purchasing equation.
Stevensville, MD (PRWEB) July 25, 2012
When garage operators and fleet managers evaluate heavy duty lift equipment, they typically consider capacity, speed, reliability, safety and durability. Often overlooked however, according to heavy duty lift leader Stertil-Koni, is another critical factor that should be entered into any purchasing equation– spare parts.
Noted Marty Miller, Stertil-Koni's Director of Operations, "Our goal is to keep all customer lifts fully operational, and we've learned through our research that delivering cutting-edge service is essential to accomplishing that mission." To help make that objective a reality, Stertil-Koni has adopted a three-point parts and serving plan. First, Stertil-Koni strives to maintain an ample supply of the most commonly requested spare parts at its headquarters and warehouse location in Stevensville, Maryland. Second, the company maintains a dedicated and trained service team that is focused on providing rapid spare parts delivery to any customer location in its area -- the U.S., Canada and Mexico. Third, Stertil-Koni's highly trained network of distributors, strategically dispersed across North America, is always poised to provide ongoing customer support and technical service in a timely fashion.
Presenting a strong case in point is one of Stertil-Koni's best-selling product categories. Explained Bill Sinclair, Stertil-Koni Parts Manager, "To achieve industry-leading customer support levels, we always stock a broad range of mission-critical parts. For our very popular Wireless Mobile Column Lifts, these items include potentiometers (also known as 'potmeters'), circuit boards, lifting cylinders, gas springs, pallet jacks, stop buttons and more." Thus, as Stertil-Koni has discovered in its research as well as its day-to-day operations, a well-stocked parts warehouse coupled with a highly trained service team and tight feedback loop with customers and distributors are essential to the delivery of exceptional customer service and lift performance.
About Stertil-Koni USA, Inc.
Stertil-Koni is the global market leader in heavy duty vehicle lifts – bus lifts and truck lifts – and is the preferred supplier to the world's leading companies in the truck and bus industries. Stertil-Koni's breadth of lift products meets all ranges of lifting needs and includes mobile, two-post, four-post, in-ground lifts, parallelogram lifts, half-scissors and the innovative axle-engaging, in-ground, scissor-style heavy duty hydraulic lift configuration. In the United States, under the leadership of Dr. Jean DellAmore, Stertil-Koni USA, Inc. has achieved double-digit annual sales growth every year since its incorporation in Maryland in 1997. The company was recently awarded US Patent 8,191,865 for its innovative ECOLIFT heavy duty scissor lift. Stertil-Koni is headquartered in Stevensville, Maryland and has a major manufacturing facility in Streator, Illinois, which recently produced its 2,000th vehicle lift manufactured in the USA.