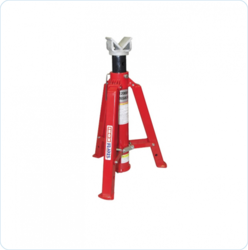 Stertil-Koni's innovative, foldable stands give back valuable shop space and ensure greater safety.
Stevensville, MD (PRWEB) May 30, 2012
Stertil-Koni USA, Inc., the leader in heavy duty truck lifts and bus lifts, has brought its innovative technology to new heights with a full of range space-saving support stands. These stands serve a critical requirement in many repair shops and maintenance facilities that mandate the use of a secondary vehicle support before a technician can work under the raised vehicle to perform service. Multiple sets of stands can be essential for a repair shop to meet this requirement.
In these instances, the challenges posed are both safety- and space-related.
A typical support stand has three legs that touch the floor and create a triangular base, which in turn can have a circumference up to 36 inches. A single stand upright on the shop floor can take up to 20 square feet of valuable shop space. Stertil-Koni has solved this problem by designing the first foldable stand which is offered in a tall or short version. Foldable stands can support capacities of 18,000 – 26,500 lbs. each. With a base circumference of only 12 inches when folded, each stand only occupies 113 inches of space. As a result, these innovative stands give back valuable shop space. In addition, Stertil-Koni offers a wall bracket that allows the stands to be stored on the shop wall and out of the way. The result is greater space and a safer work environment for service technicians.
About Stertil-Koni USA, Inc.
Stertil-Koni is the global market leader in heavy duty truck lifts and bus lifts and is the preferred supplier to the world's leading companies in the truck and bus industries. Stertil-Koni's breadth of lift products meets all ranges of lifting needs and includes mobile lifts, two-post, four-post, in-ground lifts, parallelogram lifts, half-scissors platform lifts and the innovative axle-engaging, in-ground, scissor-style heavy duty hydraulic lift configuration. Recently, the company was pleased to announce that Stertil-Koni has been awarded United States Patent Number 8,191,865 for its innovative ECOLIFT heavy duty scissor lift. In the United States, under the leadership of Dr. DellAmore, Stertil-Koni USA, Inc. has achieved double-digit annual sales growth every year since its incorporation in Maryland in 1997. Today, the company is recognized as the leading provider of mobile lifts and the fastest growing heavy-duty lift company in North America. Stertil-Koni U.S.A. is headquartered in a modern 25,000 square foot combined office and warehouse facility in Stevensville, Maryland and has a major manufacturing facility in Streator, Illinois.