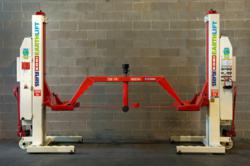 Stertil-Koni's Kingpin Cross Beam can be essential to safely lifting trailers when independent of the tractor.
Stevensville, MD (PRWEB) August 27, 2012
When heavy duty vehicle techs need to lift a trailer that is detached from the tractor, the logistics and safety requirements can be anything but routine, even for the most experienced fleet operators.
Enter Stertil-Koni's custom-designed Kingpin Cross Beam, which engages the trailer at the fifth wheel. This product can be essential to safely lifting trailers when independent of the tractor. After all, the majority of trailers are serviced and inspected outside – detached from the cab. Further, in contrast to the more straightforward requirement of lifting a full rig -- which can be accomplished with a range of options including mobile column lifts, axle engaging scissor lifts, platform lifts or in-ground piston lifts -- lifting a trailer on its own presents a number of unique structural demands.
According to Technical Sales Support Manager for Stertil-Koni, Peter Bowers, "In this instance, the objective is to pick up and support the chassis of the trailer in the same manner as it is normally supported when on the road and supported by the fifth wheel." The challenge is to properly support the trailer frame that is normally hooked to the tractor. The solution, according to Stertil-Koni, is to use four, heavy duty mobile column lifts – two at the wheels and two utilizing the company's custom-designed Kingpin Cross Beam that engages the trailer at the fifth wheel.
Safety, of course, is always first and foremost. Noted Bowers, "Before you begin, always lift on a firm foundation. Lift on level ground; and, be cognizant of wind loads. Next, bring in mobile lifting columns to the rear-most axle and maneuver the cross beam into place – locating it properly under the kingpin. At that point, the service technician can engage mobile lifting columns to the cross beams."
Continued Bowers, "Stertil-Koni recommends using battery powered, wireless mobile lifting columns. In this way, an external power source is not required and thus it eliminates the possibility of operator tripping due to messy wires or cables." Lifting experts also point to Stertil-Koni's unique height memory system, which allows lifting of a broad range of trailers while providing the highest safety standards. The company's wireless control system allows operation of up to eight columns in a set and each control box permits full operation in either group, paired or individual mode. Finally, added Bowers, "Our synchronization tolerance starts at five-eighths of an inch, which is the tightest and safest in the industry."
About Stertil-Koni USA, Inc.
Stertil-Koni is the global market leader in heavy duty vehicle lifts – bus lifts and truck lifts – and is the preferred supplier to the world's leading companies in the truck and bus industries. Stertil-Koni's breadth of lift products meets all ranges of lifting needs and includes mobile, two-post, four-post, in-ground lifts, parallelogram lifts, platform lifts, half-scissors and the innovative axle-engaging, in-ground, scissor lift configuration. In the United States, under the leadership of Dr. DellAmore, Stertil-Koni USA, Inc. has achieved double-digit annual sales growth every year since its incorporation in Maryland in 1997. The company was recently awarded US Patent 8,191,865 for its innovative ECOLIFT heavy duty scissor lift. Stertil-Koni U.S.A. is headquartered in Stevensville, Maryland and has a major manufacturing facility in Streator, Illinois, which recently produced its 2,000th vehicle lift manufactured in the USA.