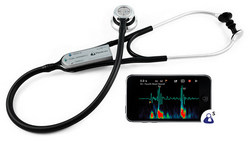 Achieving the best heart sound quality is central to our technology. Helping raise awareness of women's heart disease is central to our values.
Denver, CO (PRWEB) February 7, 2010
Thinklabs is pleased to announce that the Thinklabs ds32a Digital Stethoscope was used in the recording of NY Jets Quarterback Mark Sanchez' heartbeat, for the CBSCares Superbowl XLIV public service announcement on women's heart disease. (Visit CBS Cares at http://www.cbscares.com/ )
Clive Smith, CEO of Thinklabs Medical explains, "CBS Cares public service announcements represent a significant contribution to raising public awareness about healthcare issues, literally saving lives. CBS insisted on capturing an absolutely authentic recording of Mark Sanchez' heartbeat for their Superbowl message. They contacted cardiologists at Harvard Medical School who recommended that CBS work with Thinklabs. Achieving the best possible heart sound quality is central to our technology and research. Helping raise awareness of heart disease in women is central to our values. To work with CBS for a Superbowl ad is an opportunity to reach one of the biggest audiences possible with this important message."
The Thinklabs ds32a Digital Stethoscope has established a reputation for outstanding audio performance in the clinical world. It has also become known in the broadcast industry and is used regularly to capture heart sounds on television shows.
Thinklabs is the first company to provide an electronic stethoscope with recording and display of heart and lung sounds on the Apple iPhone and iPod Touch, with its just-released Stethoscope App software.
About Thinklabs
Thinklabs specializes in the development of electronic stethoscopes and mobile medical technologies. Thinklabs conducts active research in stethoscope technology and design, and mobile applications for medical devices. The company holds numerous patents in body sound sensing and electronic stethoscope technology. The Thinklabs ds32a is one of the leading electronic stethoscopes on the market today. Visit Thinklabs online at http://www.thinklabsmedical.com/
# # #