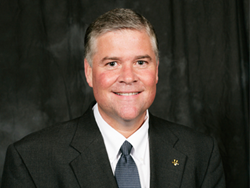 Jeff is coming to Stetson at an important time because of the rapid, positive trajectory the university is on.
DeLand, FL (PRWEB) April 02, 2014
Stetson University has named Jeffrey A. Ulmer vice president for development and alumni engagement. Ulmer joins Stetson from the University of Central Florida where he serves as assistant vice president overseeing fundraising at multiple academic colleges. Prior to that Ulmer was responsible for setting the strategic direction for UCF's Athletic Development Program.
"I am excited to join the distinguished community of faculty, staff and students at Stetson," said Ulmer. "I look forward to working with President Wendy Libby and Stetson's vibrant alumni community to advance the national and international prominence of this great university."
Ulmer was selected following a national search. As vice president for development and alumni engagement, Ulmer will provide strategic vision, focus and direction for Stetson's development and alumni relations efforts. He will also provide innovative leadership in annual and comprehensive campaigns, corporation and foundation relations, planned giving, major gifts, donor relations and stewardship, and prospect research and management.
"Jeff is coming to Stetson at an important time because of the rapid, positive trajectory the university is on," said Stetson President Wendy B. Libby, Ph.D. "We were attracted by Jeff's strong track record in relationship building with alumni, donors and friends, as well as his team-building capabilities."
"We are thrilled to have Jeff join our staff, and we are confident that he is the right person to lead the Development Office during this exciting time," said Libby. "It is a real plus that he knows Central Florida and the greater Orlando business community. His varied experience in academics and athletics will serve us well."
Prior to working with UCF, Ulmer was president of the University of Mississippi Athletics Association Foundation, executive director of development for athletics and the National Commodore Club at Vanderbilt University, and assistant dean for development and alumni relations at Vanderbilt University Law School. He also worked in development for the University of Florida's Warrington College of Business, Fredric G. Levin College of Law, Institute of Food and Agricultural Sciences, and College of Liberal Arts & Sciences. A 1985 graduate of the University of Florida, Ulmer is a former assistant strength and conditioning coach for the National Football League's Tampa Bay Buccaneers.
Ulmer begins his new position on April 28. He is replacing Vice President for University Relations Carol Julian, who is retiring.
About Stetson University
Founded in 1883, Stetson University in Central Florida is an independent university that provides a transforming education in the liberal arts tradition. Stetson stresses academic excellence and community-engaged learning, and consistently earns high national rankings. In 1982, Stetson was awarded a chapter of the prestigious Phi Beta Kappa honorary society. The College of Arts & Sciences, School of Business Administration and School of Music are located at the historic campus in DeLand. The College of Law is in Gulfport/St. Petersburg. The university also has two satellite centers: the Tampa Law Center and the Stetson University Center at Celebration near Orlando. More information: University Marketing, 386-822-8920. Stay Connected with Stetson on social media.