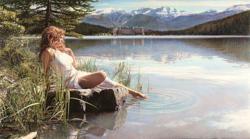 The serenity and majesty of 'Canadian Beauty' by watercolor artist Steve Hanks is breathtaking.
San Francisco Bay Area, CA (PRWEB) October 18, 2011
World Wide Art, Inc., a renowned art gallery and custom conservation framing company, has announced that it is now carrying "Canadian Beauty," a new piece by Steve Hanks.
Hanks is well known as one of the finest figurative artists today, and is also noted as one of the best watercolor painters in the world. He places a high degree of importance on the environments he paints his figures in, and this combination results in beautiful and awe-inspiring art.
The breathtaking piece entitled "Canadian Beauty" is appropriately named. In the background of the painting, a range of majestic snow-capped mountains painted in rich purples and blues tower above a peaceful lake. A striking, auburn-haired woman is perched on a rock alongside the lake, and she reclines gracefully, extending just one toe into the water. Her white clothing drapes seductively over her frame, and she appears to be deep in thought.
"The serenity and majesty of 'Canadian Beauty' is just incredible," said David Wilfong, spokesperson for World-Wide-Art.com. "This painting inspires introspection and reflection in the way that Steve Hanks has truly mastered in all of his pieces."
The beauty captured in Hanks' painting "Canadian Beauty" is twofold: the scenery in the piece is exquisite, as is the beauty of the woman he has painted into it. According to the artist, this painting is set on Lake Lousie, a beloved natural landmark in Banff National Park in Canada.
Hanks most often uses women as the subjects in his paintings, citing a feeling of magic surrounding women and his appreciation for the ability to tell a story through the female figure. Unlike many artists who seek to encapsulate a specific message in their art, Hanks aims to create a unique experience for each viewer, evoking their own memories and emotions. People will see different things in Hanks' art based on their own personal life stories and backgrounds.
Another interesting thing to note about the artist is that his experimentation with watercolors was somewhat of a happy accident. Hanks actually began his career primarily drawing in pencil and painting with oils, but a severe allergic reaction to oils forced him to try his hand using watercolors as a medium. Watercolor paintings are what he is best known for today.
"Steve Hanks is a very versatile artist, with talent for both landscapes and figurative works," Wilfong said. "We are proud to feature his latest painting at World-Wide-Art.com."
In addition to Hanks' "Canadian Beauty" painting, World-Wide-Art.com offers countless other new releases, limited editions and honored collections by today's top artists. For more information, visit http://www.world-wide-art.com.
###