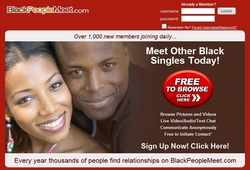 Hollywood, CA (PRWEB) January 29, 2009
While most of the country suffers from record low temperatures, the radio airwaves are heating up with a new interactive dating game segment in Steve Harvey's top morning drive show. BlackPeopleMeet.com, the web's leading destination for black singles has teamed up with Premier Radio Network's syndicated "The Steve Harvey Morning Show" (http://www.steveharvey.com), to launch Radio Date™, an updated and fun take on dating game shows of the past, with an interactive twist.
Every other Wednesday morning, during the top rated Steve Harvey Morning Show, four (4) lucky BlackPeopleMeet.com members will appear live on the Steve Harvey Morning Show. One female listener will choose from three (3) eligible bachelors to go on an elegant night on the town, courtesy of BlackPeopleMeet.com and the Steve Harvey Morning Show. Each Radio Date™ will include transportation, dinner, flowers, security and other world-class extras. Each subsequent Wednesday segment will feature responses from the two lucky daters, along with results from listeners voting at the Radio Date™ webpage (http://www.blackpeoplemeet.com/steve-harvey).
BlackPeopleMeet.com is currently seeking potential Radio Date™ contestants from major metropolitan cities like New York, Washington D.C., and Chicago. To enter, interested daters need to visit http://www.blackpeoplemeet.com/steve-harvey and click "Participate". Candidates for Radio Date™ must have a profile on BlackPeopleMeet.com and will be selected based on the quality, completeness and popularity of their profiles, as well as their proximity to the city where the date will be held. There is no purchase necessary to be eligible.
"In such a tough economy, we wanted to give back to the community and provide the opportunity for a great time and potentially even more.", says Ron Worthy, People Media, Inc.'s Vice President of Product and Business Development. Since the site's launch in 2002, BlackPeopleMeet.com has helped introduce tens of thousands of couples. BlackPeopleMeet.com is an inexpensive and effective way to meet a large group of attractive Black singles. With the help of Steve Harvey, BlackPeopleMeet.com can provide an amazing first date, free of charge.
About People Media, Inc.
People Media is the leading provider of niche focused online dating communities, operating more than 20 individual websites, reaching more than 1.5 million unique users each month according to comScore Media Metrics. Many People Media sites are the most popular in their category, including BlackPeopleMeet.com (http://www.BlackPeopleMeet.com), the #1 online dating destination for Black singles, SeniorPeopleMeet.com, the leading destination for senior and baby boomer dating, LoveAndSeek.com, and SingleParentMeet.com. People Media is major force in the online personals space, which, according to Jupiter Research, will reach $1.2 billion in worldwide revenues by 2009.
About BlackPeopleMeet.com
Founded in 2002, BlackPeopleMeet.com (http://www.BlackPeopleMeet.com) is the Web's #1 online dating destination for Black singles, with nearly 1 million unique visitors per month, over 80 minutes of time spent per visitor, and nearly 300 million monthly page views.
About Premier Radio Networks, Inc.
Premiere Radio Networks, Inc., a subsidiary of Clear Channel Communications, syndicates 90 radio programs and services to more than 5,000 radio affiliations and reaches over 190 million listeners weekly. Premier Radio is the number one radio network in the country and features the following personalities: Rush Limbaugh, Jim Rome, Casey Kasem, Ryan Seacrest, Glenn Beck, Bob & Tom, Delilah, Steve Harvey, Blair Garner, George Noory, John Boy and Billy, Big Tigger, Dr. Dean Edell, Bob Costas, Sean Hannity and others. Premier is based in Sherman Oaks, California with 13 offices nationwide.
About "The Steve Harvey Morning Show"
Based in New York City at WBLS, "The Steve Harvey Morning Show" is hosted by one of America's funniest and most popular comics. Nationally syndicated by Premiere Radio Networks on 44 stations in markets such as New York, Los Angeles and Chicago, the show combines heart, humor, music and celebrities form the world of sports and entertainment. Harvey is joined on the show by Shirley Strawberry, Carla Ferrell and his "Nephew Tommy".
###