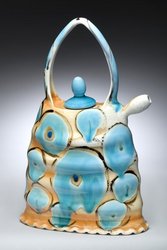 Atlanta (Vocus) February 2, 2009
For years, the American Craft Council Show in Atlanta has been the premiere marketplace for fine craft lovers in search of unique works to adorn their homes, offices, and even their bodies. Now in its 20th year in Atlanta, the 2009 Show will take place Mar.13 -15, 2009 at the Cobb Galleria Centre in Atlanta, Ga. with a wide array of decorative, fashionable and functional art work.
Presented by the nonprofit American Craft Council, the three-day event will feature more than 200 of the nation's most respected artists, who will exhibit and sell their latest high-quality handmade jewelry, furniture, clothing, home accessories and more. This versatile show has a little something for everyone, from those seeking fashionable art for their wardrobes to those looking for decorative art for their homes or functional art for everyday use. Craft Show participating artists present their work in artful displays for the 10,000 or so collectors and craft enthusiasts who shop the largest selection of museum-quality craft in the Southeast.
Consider visiting the Show for any of the following reasons:
The 20th Annual Show Features Fine, Functional Artwork for Every Budget
The fine and functional artwork featured at this year's Show is diverse enough that participants can find numerous uses for the unique and limited edition pieces available for purchase. Attendees will find artist-designed fashions including jewelry, clothing, purses and accessories for their wardrobes. They will also find furniture, baskets, floor coverings, lighting, decorative accessories and usable objects such as tableware, cutlery and vases for the home or office. Price points of the items for sale are diverse as well, with works worthy of the most discerning collections and those more appropriate for everyday use; the fine craft available ranges from $25 to thousands of dollars.
In addition to art appealing to adult collectors, many artists will participate in Craft 4 Kids, displaying handmade objects designed especially for newborns and children. Craft 4 Kids artists include Steve Baldwin of Omaha, Neb. and David Levy of Davis, Ca.
It's Easy to be Green!
The green movement is growing and it has permeated the world of museum-quality craft. As was the case in 2008, the 2009 Show will feature works from a number of GreenCraft artists, including Mayra Orama Muniz of Lancaster, PA and Tim Sarno of Marietta, GA. GreenCraft artists' works are made from recycled materials and/or sustainable processes. Among the materials getting a new life as beautiful art are materials recovered from natural disasters, such as hurricanes and items from places of man-made neglect, such as landfills.
Learn from Artists, Connect with Fellow Collectors
One of the best benefits of attending the American Craft Council Show in Atlanta is the opportunity to talk with leading artists from around the country to learn about their backgrounds, how they create their work and what inspires them. Getting to know the artist and developing a better understanding and appreciation of his or her work adds special meaning to a purchase. Craft enthusiasts enjoy sharing these stories with their friends and family as it adds distinction and personality to the collectors' wardrobes and home décor.
Friend us, Follow us, Visit us
The 2009 American Craft Council Show in Atlanta is utilizing social media outlets to connect artists with collectors and to provide show updates to the general public. Our Facebook page contains artists' information as well as photographs of their work and forums for connecting artists with both experienced and first-time collectors. The page also allows craft collectors to compare pieces, discuss favorite artists, and share tips for building a great collection and integrate it into homes and wardrobes. For show and artists' updates and general information, follow us on Twitter. To preview the Show and purchase tickets online, please visit: http://www.craftcouncil.org/atlanta.
Special Events Open to Public
Craft enthusiasts wanting an early peek should plan to attend the Preview Party on Thursday, March 12, from 6-9pm at the Cobb Galleria Centre. Tickets are $75 in advance and include a return ticket to the Show. Attendees can meet the featured artists and buy their works before the Show. Proceeds from the Preview Party jointly benefit the American Craft Council and the Boys & Girls Club of Metro Atlanta/Youth Art Connection.
This year's show, the third staged at the Cobb Galleria, will feature demonstrations by local artists.
The show includes a food court with lunch and snack selections, a coffee house with coffees and breakfast selections, and bars serving beverages and mixed drinks.
Show Admission and Hours
Regular admission is $12 for one day and $18 for a two-day pass. Children 12 and under are admitted free. American Craft Council members and those who join this national non-profit organization at the Show are admitted free. The Show runs Friday & Saturday, March 13-14: 10 a.m.-6 p.m.; and Sunday, March 15: 10 a.m.-5 p.m. in the Cobb Galleria Centre.
For directions to Cobb Galleria Centre, visit: http://www.cobbgalleria.com. Free parking is available.
About the American Craft Council:
The American Craft Council is a national, nonprofit public educational organization founded in 1943 by craft advocate Aileen Osborn Webb. The mission of the Council is to promote understanding and appreciation of contemporary American craft. Programs include the bimonthly magazine AMERICAN CRAFT, annual juried shows, a 2009 leadership conference, the Aileen Osborn Webb Awards honoring excellence, a specialized library, workshops and seminars.
###