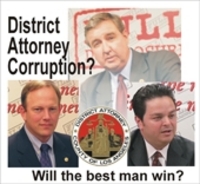 He has refused to prosecute the pedophiles and child molesters that work and still work in the Catholic Church
Los Angeles, CA (PRWEB) May 14, 2008
Is it a co-incidence that it has been almost 20 years, since the Los Angeles County District Attorney's office prosecuted a big dollar, white collar crime? Or could it be there are no more big corruption cases or major crimes committed by powerful and prominent people in Los Angeles? In a Full Disclosure Network® two-part series Steve Ipsen, President of the Association of Deputy District Attorneys (L.A. County) and Albert Robles, Constitutional Attorney who serves as an elected member of the So. California Water Replenishment Board both contend that corruption is alive and well in Los Angeles County.
These two challengers are running against Los Angeles County District Attorney Steve Cooley in the June 2008 election, alleging that he has refused to prosecute the rich and powerful while successfully lobbying for a $55,000 pay raise bringing his salary to $292,300, making him one of the highest-paid government officials anywhere.
Watch this seven minute preview from the series that is featured on 45 cable systems and the Internet. The full two-part programs are to be available from the website (for the next three weeks) at the following URL: http://www.fulldisclosure.net/Programs/515.php.

Preview (7:30 min)
Part One: (28:30 min)
Part Two: (28:30 min)
In the last segment of the series (Part 2), the Full Disclosure Network® discloses on video, how two Los Angeles District Attorney's Investigators appeared at their cable television offices unannounced to conduct an unofficial investigation. The investigators requested certain information on planned coverage of a conference sponsored by law enforcement agencies, associations and the Citizens Protection Alliance. More information can be found on the following website: http://citizensprotection.us.
The following quotes are from the series:

"The corruption that exists in the county, that I'm aware of, is with the District Attorney's office," said Steve Ipsen.
"This DA doesn't deserve to be paid when he isn't doing his job," said Steve Ipsen.
"He has refused to prosecute the pedophiles and child molesters that work and still work in the Catholic Church," said Albert Robles.
"Steve Cooley takes untold amounts of money from the criminal defense sector," said Albert Robles.
Since 1992 the Full Disclosure Network® programs have been produced by Emmy Award winning host Leslie Dutton and Producer T. J. Johnston. In 2002, the Full Disclosure® special series L.A.'s WAR AGAINST TERRORISM was recognized by the Academy of Television Arts & Sciences with a local Emmy Award for a public affairs, informational series. Channels and airtimes can be found on the website at http://www.fulldisclosure.net/Channels/channelsINDEX.htm.
###