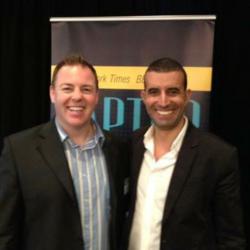 We discussed his business, set up and ran a webinar online, and generated over twenty one thousand dollars in sales for Shane - in front of the 300 delegates
Melbourne, Australia (PRWEB) December 18, 2012
At a recent business event held in Melbourne, Australia, Steven Essa diverted from his usual webinar demonstration model, by asking the audience to select one of its members for a live coaching session. The coaching took the chosen participant through the concepts of webinar marketing, creating the webinar, broadcasting it, and measuring conversions.
Mr Essa is known internationally for his strategies for creating profitable webinars (online seminars), and for including them as a vital part of the marketing mix for any business, particularly those with an online presence.
"Successful online business people, along with my students and I, already know how powerful webinar marketing can be," said Mr Essa. "Their worldwide reach has the potential to take businesses to a whole new level."
Mr Essa understands though, that actions speak much louder than words, particularly to an audience that is new to online business, and who may believe that running a webinar is way outside of their skills set.
Audience Made The Choice
"We could think of no better way to demonstrate a webinar's marketing effectiveness than to select a member from the audience, and take them step by step through the process," he said. "And to be quite transparent, we selected several audience members, and asked those present to vote on who I should work with."
"Shane Price was selected and I coached him on the spot," said Steven. "We discussed his business, set up and ran a webinar online, and generated over twenty one thousand dollars in sales for Shane - in front of the 300 delegates."
While doing live webinars is effective, Mr Essa's unique strategies and systems allows for webinars to be automated and replayed at nominated times, or on-demand. His students learn about the strategies behind webinar marketing, what content to include in a webinar, high converting terminology to use, and choosing the right 'tone' for their intended audiences.
"Making automated webinars a key part of their businesses' marketing mix becomes second nature," said Mr Essa. "We know that this will be the case for Shane, and for those who saw, live, exactly how easy it can be."
"I am really looking forward to my next presentation, in London in January 2013 - and plan to show another lucky delegate how to use webinars to great success," he concluded.
More about webinar marketing is available at StevenEssa.com
About Steven Essa
Steven Essa was raised in the western-suburbs of Sydney, by hard-working immigrant parents. Fast forward 30 years, and he is now one of the most highly regarded experts in webinar automation, and consistently wins 'Best Speaker' awards at live, on-stage events. An estimated 25,000 people in 10 countries have watched his presentations.
Steven is a professional and ethical online marketer who specializes in webinar marketing and in the creation of user-friendly automated webinar systems that form an integral part of a business sales funnel – and he teaches others how to do this too! His expertise in this niche is unparalleled.
More information about Steven can be found at StevenEssa.com