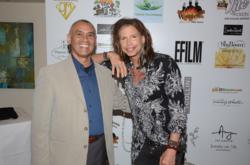 Man, I didn't know those other sites we're charging so many unnecessary fees..
Melbourne, FL (Vocus/PRWEB) March 22, 2011
Even celebrities like to save and get more for their money.
The stars at the Roger Neal Style Hollywood 15th Annual Academy Awards Ultimate Beauty Suite last month were excited to learn they can save up to 30 percent on flowers and get more for their money with EZBloomers.com.
"Man, I didn't know those other sites we're charging so many unnecessary fees or how it could affect what we get. EZBloomers.com is doing a great thing for the consumer and the industry," said Steven Tyler of Aerosmith and new American Idol judge.
EZBloomers.com was a featured vendor at this year's Roger Neal Style Hollywood's Academy Awards Ultimate Beauty Suite. The pre-Oscar suite at L'Ermitage Hotel is dedicated to showcasing innovative products and services to its celebrity guests.
Along with Tyler, many celebrities attended, including: Angela Bassett, George Blodwell, Tony Denison, Richard Gant, Mark Hamill, Ernie Hudson, Bailee Madison, Sofia Milos, Jaala Pickering, Anika Rose, Connie Stevens and Kristy Swanson.
"It was fantastic to have a one-on-one opportunity to share EZBloomers.com with members of the Hollywood community," said Kimba Vasquez, Chief Executive Officer of EZ Bloomers LLC. "We found that everyone was surprised to hear how the current model works and excited that we're setting out to change things. Customers are paying too much and getting less when buying flowers through national retailers. We want to put a stop that."
EZBloomers.com is on a mission to educate public about buying flowers through national floral retailers. With the big, well-known companies, customers have to go through middlemen. This results in unnecessary service fees, prices that are deceptive and, potentially, less-than satisfactory product. Florists are also being burdened with fees and commissions, making it difficult for them to simply survive.
"There is a better way," Vasquez said. "And that's why EZBloomers.com is setting out to change the industry."
At EZBloomers.com orders go directly to the local florist, not a middleman. The price the customer sees is the price the customer pays. There no are no commissions or service fees and the full amount the customer pays goes toward their order. It's a concept that any consumer can get behind.
Fee free flowers combined with made-to-order flowers makes EZBloomers.com the best place to order flowers online.
About EZBloomers.com
EZBloomers.com is a web service for buying fee free flowers online; we match the customers flower needs with the most qualified local florists across the country.
# # #