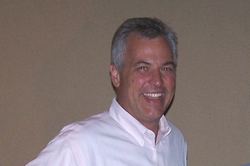 Steve's experience and expertise in retail and grocery marketing, coupled with his strong technical know-how, is a perfect fit for our company. He will play an integral role in the company's strategic direction, business development and future growth
Erie, PA (Vocus) October 12, 2009
M-Dot Network, http://www.mdotnetwork.com, has named industry veteran Steven Goforth as Executive Vice President of Business Development.
Goforth is a twenty year retail marketing executive with a broad level of experience in technology, business acumen and sales. He will be responsible for establishing the company's product offerings and leading the company's sales efforts.
With expertise in grocery, marketing, emerging retail trends and new channel development, Goforth has worked in a variety of executive-level positions. Over the years, he has been involved in the development and sale of some of the leading retail Customer Relationship Marketing (CRM) products.
According to Bill Catania, CEO of M-Dot Network, "Steve has a track record of turning conceptual thinking into strategic partnerships that exceed business goals with a proven ability to develop and sell solutions that go beyond the expectations of the client."
Goforth's retail technology experience includes senior level roles at Catalina Marketing, Fujitsu ICL and Jewel-Osco of Florida. "Steve's experience and expertise in retail and grocery marketing, coupled with his strong technical know-how, is a perfect fit for our company. He will play an integral role in the company's strategic direction, business development and future growth," said Catania.
For more information about Steven Goforth and the rest of the team at M-Dot Network visit the company's web site at http://www.mdotnetwork.com.
About M-Dot Network
M-Dot Network is a digital incentive processor that enables retailers to issue and redeem digital coupons and incentives in real-time while utilizing their existing in-store technology infrastructure. M-Dot Network provides secure transaction processing treating digital coupons and incentives similarly to currency. The company is headquartered in Erie, Pennsylvania with its engineering operations based in the Tampa/St. Petersburg, Florida region. For more information visit http://www.mdotnetwork.com.
Contact:
Kevin Seeker, CMO
814-218-0202
###