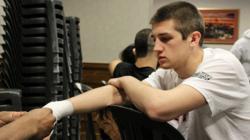 Belcamp Maryland (PRWEB) April 30, 2013
This Saturday at the Harrington Casino in Delaware Top Flight MMA standout, Steven Eilola will fight in Stellar Fights 15 for the welter weight (170lb) title against setting champion Matthew Oakely.
Steven Eilola is currently riding a 3 fight win streak all which have won inside 3 rounds. This next test is Eilola greatest to date and he excited to show his growing MMA skills. His opponent is an experienced wrestler who doesn't mind trading shots but Eilola in his last few fights has shown his own ability to land big takedowns and the tall-skinny frame Eilola possesses makes his fast and hard striking extremely difficult to deal with.
Eilola had this to say," Its a dream of mine to become a champion at every stage of my career and I've worked really hard to make this dream come true. Saturday I will be looking to finish the fight, I train with the best and I have been sparring with best pro's in the area, I am ready!"
Saturday there will be fire works as Steven Eilola looks to become the NEW Stellar Fights Welter Weight Champion. Tickets are available at Top Flight MMA in Belcamp for $20 and at the event door for $30. Come out and show your support for the next wave of MMA talent.