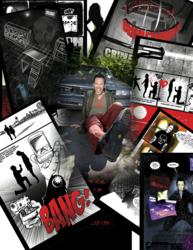 Like any kid I always imagined myself in these stories, fighting for justice and now I am!
Hollywood, California (PRWEB) May 29, 2012
CRIMEWORLD is a dark, sexy, five part, graphic novel revolving around an intense, tattooed, spiky haired crime aficionado named 'Izzy DeKiller', a character based on Steve Valentine's darker side. Valentine created the story while teaming up with acclaimed illustrator, Daniel J. Frey (CryWolf), for the striking visuals.
"I wanted to create a new kind of Detective, the kind of figure who looks more like a criminal than a hero, who maybe even scares the crap out of you. We judge so much by appearance, it's unsettling to think THIS is the good guy, you'd definitely walk in the other direction if you saw Izzy coming".
The 'Sin City meets Sherlock Holmes' graphic novel not only uses Izzy's bizarre shop 'DeKiller's CRIMEWORLD' as the physical incarnation of his extreme knowledge but as the spectacular centerpiece for the 'coming of criminal-age' of this unusual hero.
Valentine says "It was written during an intensely discordant time in my life and it's all there, woven within the story. Dan (Frey) was better than any therapist at getting inside my twisted mind, crystalizing my imagination and visualizing it brilliantly on paper".
They have even created Izzy's own twisted twitter @izzydekiller
It's not unusual for Valentine to dive into new roles and genres. He doesn't believe in creative boundaries "All art comes from the same limitless center of energy. Everything is fair game and WHY NOT has been my mantra ever since I left home in my teens and came to America with just a few bucks in my pocket and a desire to act".
As if to over prove his point, during the years Valentine has starred in three TV series, directed sitcoms, received accolades and multiple awards from Hollywood's World Famous Magic Castle, performed stand-up in Las Vegas, DJ'd in Europe, released a series of Magic Effects for the Professional Magician, and over the last four years has written, created and produced three scripted TV series for development at USA, SyFy and NBC.
In fact he is currently developing the scripted Detective series 'COOKED, the adventures of a Gourmet Detective', with UCP and food star Adam Richman.
With his company LIONHART FILMS, Valentine is currently producing the independent thriller CLEAN ME, written and directed by Paul Chart (American Perfekt & Children of Men) and starring Robert Forster, Chris Sarandon, Bruce Davison and of course Steve Valentine among others.
With so much going on, why a graphic novel?
"Maybe it's about control, being able to put down exactly what I want to say without a dozen other people getting in my way, or maybe the answer is simply, why not?
CRIMEWORLD, Book One is available in the iBookstore and from Amazon.com
Steve Valentine can be seen next in the special CLUE homage 100th episode of PSYCH and as the big bad guy in Disney's upcoming Summer Movie, 'Teen Beach Musical'.