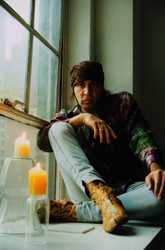 The event is open to eMusic members including anyone in an eMusic free trial, and will feature rock and roll legend "Little Steven" presenting a one-hour discussion on the craft of rock and roll.
New York, NY (Vocus) May 25, 2010
eMusic (http://www.emusic.com), the digital music club, today announces another exclusive eMusic A+R Access + Rewards© event for eMusic members: "eMusic Summer School with Stevie Van Zandt." Scheduled for Wednesday, June 16, 2010 in New York City, the special eMusic event with "Little Steven" will feature the rock and roll legend presenting a one-hour discussion on the craft of rock and roll and "how to become a music tastemaker" that turns their friends on to all the best new bands.
The event is open to eMusic members including anyone in their eMusic trial. To attend "eMusic Summer School with Steven Van Zandt," eMusic is hosting a sweepstakes where 25 lucky eMusic members (plus one guest each) will win a ticket to the event. The sweepstakes begins today and the last day to submit an entry is June 4, 2010. A drawing will be held on Friday, June 9 to determine the eMusic members who will participate in this singular rock and roll experience. To enter, go to http://www.emusic.com/rewards.
"Our philosophy with Little Steven's Underground Garage radio is to support emerging artists in every way we can and provide a historical context by making all 60 years of rock 'n roll accessible. We enjoy working with eMusic because they share this philosophy and our perspective on what makes great music and how fans can help musicians recognize and create it," said Van Zandt. Little Steven's Underground Garage radio is heard on SIRIUS XM and is syndicated around the world.
"On behalf of eMusic's members, I'd like to thank Stevie Van Zandt for participating in eMusic's Access + Rewards program. Our event with Steven is an excellent example of what the eMusic Access + Rewards program is all about, providing eMusic's members with a deeper, more immersive experience that feeds their music fervor and invigorates the overall music community," said Danny Stein, Chief Executive Officer, eMusic.
eMusic Access + Rewards©, which was introduced in March at South By Southwest (SXSW), is a new member benefits program that offers opportunities to connect with artists, special access to selected clubs, deals on music hardware accessories, discounted entry to music museums such as the Rock and Roll Hall of Fame, suggested ways to support the broader music community and encompasses all of eMusic's existing music download promotions. The new program adds greater value to membership in eMusic and helps eMusic's enthusiastic membership connect with music in a deeper, multifaceted way. For more information on eMusic Access + Rewards©, please visit http://www.emusic.com/rewards.
About eMusic
eMusic (http://www.emusic.com ) is a digital music club. With a more immersive, authentic music experience and better prices than mass market digital music retailers, it is the best way for music lovers and casual music fans to expand their music collection. eMusic combines award-winning editorial, a state-of-the-art recommendations system, and social media features to provide the most musical context for an enthusiastic community of music fans, record labels, and artists alike. Customers are encouraged to explore music with subscription pricing that rewards discovery at a better value than any legal competitor. eMusic also sells downloadable audiobooks from all major audiobook publishers. Based in New York with an office in London, eMusic is available in the U.S., Canada and 27 E.U. nations. eMusic.com Inc. is owned by Dimensional Associates, Inc., the private equity arm of JDS Capital Management, Inc.
About Renegade Nation
Renegade Nation is a New York-based media company led by Stevie Van Zandt with a business model built around the emotional appeal of Rock 'n Roll. Its vision is to create and "own" a more efficient and brand-friendly platform to develop emerging artists through cost-effective production, promotion and distribution of music and music-related content. The company comprises terrestrial and satellite radio programming, live event and television production, record label and digital operations in the form of a brand new site called http://www.fuzztopia.com. Fuzztopia is a new music site/social network created by musicians for musician and music fans of all genres. The vision of Van Zandt, Fuzztopia fills a critical void in the development of new and up and coming artists through an innovative, digital to real-world approach.
NOTE: eMusic and the eMusic logo are either registered trademarks or trademarks of eMusic.com Inc. in the USA or other countries. All Rights Reserved. All other trademarks are the property of their respective owners.
CONTACTS:
Cathy Halgas Nevins
eMusic
(212) 201-9201
John McCartney
Attention
(917) 512-2129
# # #