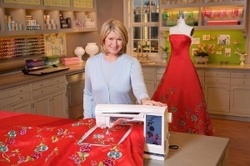 The new Husqvarna Viking Designer Diamond sewing and embroidery machine is ideal for sewers and quilters
SAN ANTONIO & NEW YORK CITY (PRWEB) June 17, 2008
Classic Embroidery Patterns, the first in a series of embroidery designs produced by MSLO and SVP Worldwide, provide designs for monogramming and frame, border, and corner artwork that allow for further enhancement and personalization of sewing and embroidery projects. These patterns include Scallop, Laurel, and Twist, three simple, graceful embellishments inspired by timeless embroidery patterns, as well as an elegant font—custom-designed to Martha's specifications—for creating clean, beautiful monograms.
Martha Stewart, Founder of MSLO, stated: "Adding a monogram or embroidered detail is a simple way to give your work a distinctive finishing touch. It's still one of my favorite ways to make my creations more personal."
Ms. Stewart unveiled her new line of embroidery designs while speaking at the 22nd Annual Husqvarna Viking International Dealer Convention in San Antonio, Texas, where the world's new top of the line HUSQVARNA VIKING DESIGNER DIAMOND™ sewing and embroidery machine was launched. Ms. Stewart was presented with the very first DESIGNER DIAMOND machine.
"The new Husqvarna Viking Designer Diamond sewing and embroidery machine is ideal for sewers and quilters," said Ms. Stewart. "It is an excellent, high-quality machine that is truly a pleasure to use and offers many wonderful features to enhance any project and ensure the most beautiful results."
In addition to the embroidery and monogramming designs, each Martha Stewart Embroidery kit will provide a booklet featuring instructions for recreating the projects featured on the packaging as well as inspiration and ideas for creating unique projects. Suggested templates for formatting letters with various frames, borders, and corners will also be included.
"Martha Stewart has elegantly combined her love of sewing and rich history of embroidering her own projects with this new inspiring collection," said Don Fletcher, CEO of SVP Worldwide. "Whether a new or experienced sewer, the easy to use yet intricate detailed designs will enhance and personalize any sewing project."
The exclusive line of Martha Stewart Embroidery designs will be available this summer where HUSQVARNA VIKING, PFAFF, and SINGER products are sold.
About Martha Stewart Living Omnimedia, Inc.
Martha Stewart Living Omnimedia, Inc. (NYSE: MSO) is a diversified media and merchandising company, inspiring and engaging consumers with unique lifestyle content and distinctive products. The Publishing segment encompasses four magazines, including the company's flagship publication, Martha Stewart Living, periodic special issues and books. The marthastewart.com website provides consumers with instant access to MSLO's multimedia library, search and find capabilities, recipes, online workshops, community and personalization, as well as wedding-planning tools powered by WeddingWire. The Broadcasting segment produces such programming as the Emmy-winning daily, nationally syndicated television series, "The Martha Stewart Show," and Martha Stewart Living Radio, channel 112 on SIRIUS Satellite Radio. In addition to its media properties, MSLO offers high-quality Martha Stewart products through licensing agreements with carefully selected companies, including the Martha Stewart Collection exclusively at Macy's, Martha Stewart Everyday at Kmart, Martha Stewart Crafts with EK Success, Martha Stewart for 1-800-Flowers.com and a co-branded food line with Costco. In April 2008, Emeril Lagasse joined the Martha Stewart family of brands; MSLO acquired the assets related to Lagasse's media and merchandising business, including television programming, cookbooks, and emerils.com website and his licensed kitchen and food products. For additional information about MSLO, visit http://www.marthastewart.com.
About SVP Worldwide®
SVP Worldwide, a global company headquartered in Hamilton, Bermuda and doing business through its affiliated companies in over 190 countries, specializes in the design, manufacture and sale of high quality household sewing machines and related products under the SINGER, HUSQVARNA VIKING, and PFAFF brand names. For more information about the Company and the company's brands, view the following websites: http://www.svpworldwide.com, http://www.sewingideas.com, http://www.singer.com, http://www.pfaff.com, and http://www.husqvarnaviking.com.
MULTIMEDIA GALLERY http://www.businesswire.com/cgi-bin/mmg.cgi?eid=5709480