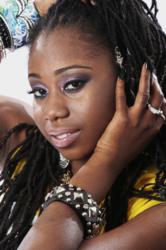 Becoming host of 106 and Park would be a deep rooted passion being fulfilled.
Fort Lauderdale, FL (PRWEB) August 20, 2012
Hip Hop Artist, Songwriter and Community Activist, Stichiz "Renee," is a finalist to replace Terrance and Rocsi as hosts on BET's 106 and Park Countdown Video Show. On August 6, 2012, Stichiz's host audition video was chosen as one of the favorites and aired on 106 and Park for the world to see. She has become the number one choice for hosting events in the South Florida area having hosted a range of events including BET's Blaze the Stage Miami, the Broward County 2nd Annual Awards, DezignNation's Fashion Play, and FAU's Harlem Globetrotters Fundraiser Pre-Show. In 2011, Stichiz was named the Best Host of Broward County, an award voted by her peers and supporters.
Having double majored in Communication Arts and Political Science and minored in Commercial Music, Stichiz is known for her character and leadership. She couples that with vibrancy and enthusiasm to both command and entertain an array of events. Well versed in the entertainment industry as well as matters impacting our communities, Stichiz uses her gifts and knowledge to make a difference. She is founder of the Broward County 'High School Trips to the Polls', co-chaired the Teen Summit featuring celebrity guests for several years and has been President of the NAACP's Youth and College Division for the State of Florida for the past few years among other important initiatives.
It's a no brainer as to why Stichiz is vying to be host on 106 and Park, a show that represents inspiration and true support of our community. "Aside from putting the spotlight on talented artists and raising awareness about important issues, 106 and Park shows the solidarity that is rarely seen in the media within our community. It showcases people of various walks of life enjoying music in an energized and positive atmosphere, finding a fun way to encourage one another about education, being politically involved, loving one another and promoting peace! 106 and Park has the potential to be that pipeline, to our generation and others to come, for truly making peace and love the motivation," says Stichiz.
Stichiz's burning desire is to use the 106 and Park stage to make a difference. "I honestly think I should be the next host of 106 & Park; for me this is not just something cool to do. It even goes beyond a BIG DREAM coming to life. This would be a deep rooted passion being fulfilled. Having the opportunity to encourage, inform, entertain, and simply being able to put a smile on someone's face everyday who might have had a terrible day. That is what I want to do," says Stichiz.
In addition to actively hosting events, Stichiz is in the studio finalizing her new Mix CD set to be released this Fall. Take a look at her host video and connect with her on Facebook.