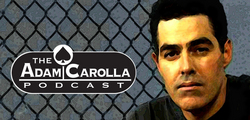 Join Adam Carolla LIVE on Stickam today at 4pm PT as he hosts his podcast from the floor of Comic-Con! Participate at www.stickam.com/adamcarolla
Los Angeles, CA (PRWEB) July 22, 2010
Stickam to broadcast Adam Carolla Podcast LIVE from Comic-Con today from 4 - 5:30pm PT
WHO: Adam Carolla
WHAT:
Join Adam Carolla from the floor of Comic-Con where he will be talking to special guests about the state of new media.
Stickam will be streaming the show LIVE at http://www.Stickam.com/adamcarolla
Fans can ask Adam questions on air by sending them via Twitter to: @adamcarolla
WHEN:
Today - Thursday, July 22 from 4 - 5:30pm PT
WHERE: San Diego International Comic-Con
About Stickam.com
Stickam.com is the pioneer of live streaming video and the largest live community on the Internet. Stickam.com delivers live interactive streaming to over seven million registered users on any computer, console or mobile device. Stickam's StreamAPI.com is the easiest and most cost effective way to incorporate live streaming video services into your Web site or application. Stickam also offers PayPerLive.com, a turnkey white label live video streaming platform for professionals. For more information, please visit http://www.stickam.com.
###