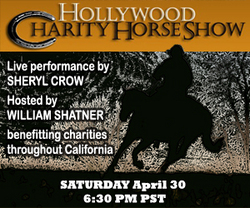 Stickam will be streaming our show live, so look it up, it will be great fun and if you can, send the children a few dollars. Every single cent goes to the kids. ~William Shatner
Los Angeles, CA (PRWEB) April 29, 2011
Stickam, the largest live online video community, announced this week that they will host a free, live webcast of the Priceline.com Hollywood Charity Horse Show, sponsored by Wells Fargo with nine-time Grammy-winning music legend Sheryl Crow.
Headed up by entertainment icon, William Shatner, the annual Hollywood Charity Horse Show (HCHS) brings together world-class reining horses and riders in breathtaking slides and spins as they compete for top honors in their respective classes. Then, as the sun sets, the much anticipated western dinner, auction and live concert by Sheryl Crow begins.
Now in its 21st year, the HCHS will benefit special-needs children's charities across the City of Los Angeles including: AHEAD With Horses, Camp Max Straus, Childrens Hospital Los Angeles, Hollenbeck Police Activities League (PAL), Starlight Children's Foundation, St. Jude Children's Research Hospital®, The Painted Turtle and others.
Stickam is pleased to give viewers the opportunity to make donations throughout the webcast to help support the organization's charitable programs. The entire broadcast will be powered by NewTek TriCaster.
"Stickam will be streaming our show live, so look it up, it will be great fun and if you can, send the children a few dollars," states William Shatner. "Every single cent goes to the kids."
WHAT:
Live Webcast of Grammy-Winner Sheryl Crow performing at the Priceline.com Hollywood Charity Horse Show, sponsored by Wells Fargo
WHEN:
SATURDAY APRIL 30, 2011
Tune in starting at 6:30 PM PST
Musical performance by Sheryl Crow & live auction by William Shatner
WHERE:
http://stickam.com/hollywoodhorseshow or http://www.Myouterspace.com
Please visit http://www.horseshow.org for more information on the HCHS.
# # #