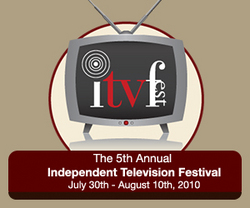 The festival allows people who have previously had little or no access to television decision-makers the forum for which they have tirelessly strived. ~A.J. Tesler, ITV Fest director
Los Angeles, CA (PRWEB) July 29, 2010
Stickam, the first and largest Web site dedicated to live interactive video streaming, will again present live online coverage of The Independent TV Festival (ITV Fest) taking place July 29 – August 5. To see the full schedule and purchase tickets, please go to http://www.stickam.com/itvfest
ITV Fest is devoted to making television matter, and making it accessible to independent-minded producers, directors, and writers. ITV Fest Director A.J. Tesler explains, "The festival allows people who have previously had little or no access to television decision-makers the forum for which they have tirelessly strived."
Stickam's live coverage will include a wide range of informative panels featuring a range of Hollywood professionals, including top executives (Fox, Mosaic, Lionsgate, Babelgum, Atom.com, and more), writers (The Office, How I Met Your Mother, The Big Bang Theory, Lie To Me, Law & Order: SVU), agents (William Morris Entertainment, Innovative), and casting directors (Hot In Clevland, Californication, Scream 4, Buffy The Vampire Slayer, Hung, Vampire Diaries).
Stickam's coverage will include several free streaming events as well as some ticketed, live pay-per-view events. Tickets for the pay events can be purchased via Stickam's PayPerLive service.
About Stickam.com
Stickam.com is the pioneer of live streaming video and the largest live community on the Internet. Stickam.com delivers live interactive streaming to over seven million registered users on any computer, console or mobile device. Stickam's StreamAPI.com is the easiest and most cost effective way to incorporate live streaming video services into your Web site or application. Stickam also offers PayPerLive.com, a turnkey white label live video streaming platform for professionals. For more information, please visit http://www.stickam.com.
# # #