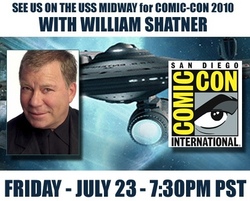 Join William Shatner LIVE on Stickam tonight at 7:30pm as he launches Myouterspace.com aboard the U.S.S. Midway. Tune in at http://stickam.com/myouterspace
Los Angeles, CA (PRWEB) July 23, 2010
Stickam, the first and largest Web site dedicated to live interactive video streaming, is hosting a live Web broadcast with sci-fi icon William Shatner tonight at the Tweet House party during Comic-Con. Starting at 7:30pm PDT, Shatner will officially launch his latest venture, Myouterspace.com. Tune in and beam up your questions at http://stickam.com/myouterspace.
With a triumphant helicopter landing on the deck of the USS Midway in San Diego, William Shatner will officially launch Myouterspace.com and celebrate the announcement with friends and celebrity guests.
Myouterspace.com is a social network for science fiction fandom that connects its members with creative opportunities alongside industry professionals. Check out http://www.myouterspace.com to learn more.
Destined to be one of the hottest events during Comic-Con, the Tweet House will take over two decks, including the Flight Deck, on the Aircraft Carrier USS Midway. For more information visit http://www.tweet-house.com.
The live stream will be broadcast using the latest production technology, the NewTek TriCaster, and will feature a virtual starship bridge set created exclusively for Myouterspace by NewTek in their award-winning LightWave 3D production system. Expect surprise guests and announcements of upcoming projects on Myouterspace.
About Myouterspace.com
Myouterspace.com is a digital Sci-Fi destination and social network providing fans with amazing content and connecting talented members with creative opportunities in music, graphic design, entertainment, acting, film production, and writing. Founded by William Shatner, Sammy Oriti and Carlos Hoz De Vila, Myouterspace.com creates original Sci-Fi entertainment for film, television and the web, facilitating members' participation alongside industry professionals. William Shatner hosts Myouterspace.com and interacts with users, oversees Starship Captains' film projects and promotes Myouterspace.com on Twitter, Facebook, and major media outlets. For more information, visit http://www.myouterspace.com . AdPlayerz, Inc. is the exclusive Multi-Platform Advertising Sales and Sponsorship Representative for Myouterspace.com. For all sponsorship and/or advertising inquiries, please contact AdPlayerz directly at sales(at)adplayerz(dot)com or call 800-557-4165, Ext. 202. For more information about AdPlayerz, please visit http://www.adplayerz.com.
About Stickam.com
Stickam.com is the pioneer of live streaming video and the largest live community on the Internet. Stickam.com delivers live interactive streaming to over seven million registered users on any computer, console or mobile device. Stickam's StreamAPI.com is the easiest and most cost effective way to incorporate live streaming video services into your Web site or application. Stickam also offers PayPerLive.com, a turnkey white label live video streaming platform for professionals. For more information, please visit http://www.stickam.com.
# # #