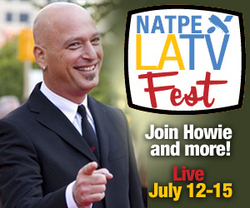 LATV Fest 2010 is dedicated to bringing together creative TV and digital content producers with development executives, agents, advertising and brand executives, software solutions and technology and equipment providers.
Los Angeles, CA (PRWEB) July 9, 2010
Stickam, the first and largest Web site dedicated to live interactive video streaming, is proud to continue its three-year partnership with The National Association of Television Program Executives (NATPE) and present exclusive live streaming coverage of the 4th Annual LATV Fest, taking place July 12-15.
LATV Fest offers a wide range of sessions, workshops, and panel discussions devoted to television and Web content. This year's panelists and speakers includes TV star and comedian Howie Mandel, currently starring on America's Got Talent; Michelle King and Robert King, creators of "The Good Wife"; JD Roth of 3 Ball Productions ("The Biggest Loser"); Kevin Beggs, Lionsgate Television; Stephen J. Davis, Hasbro Studios; Jason Goldberg, Katalyst Films; Chris Harrison, TV Guide Network; and Mark Horowitz, Executive Producer, "NCIS, " and many more.
Complete Streaming Schedule:
Monday 7/12:
4:15 PM – Digital Programming 101: Get Your Show Off The Ground
Tuesday 7/13:
8:30 AM – Keynote Address with Howie Mandel
11:00 AM – Licensing: No Longer An Afterthought
12:15 PM – Personalities That Pop: Finding The Next Reality Superstar
2:30 PM – Anatomy of A Hit Web Series
3:30 PM – In Bed With a Brand
5:00 PM – How To Make a Win-Win Deal In Online Video
Wednesday 7/14:
1 PM – Industry Insight Lunch with JD Roth
2:30 PM – So You've Pitched, Now What?
3:45 PM – Transforming The Relationship between Brands and Companies
4:45 PM – Using Media Muscle to Get America Working
6:30 PM – NextTV Awards Reception
Thursday 7/15
8:30 AM – Coffee with Mark Horowitz
9:30 AM – Inside the Writer's Room: NCIS
Catch all the coverage live at http://stickam.com/natpe
About Stickam.com
Stickam.com is the pioneer of live streaming video and the largest live community on the Internet. Stickam.com delivers live interactive streaming to over seven million registered users on any computer, console or mobile device. Stickam's StreamAPI.com is the easiest and most cost effective way to incorporate live streaming video services into your Web site or application. Stickam also offers PayPerLive.com, a turnkey white label live video streaming platform for professionals. For more information, please visit http://www.stickam.com.
About NATPE
NATPE is a global, nonprofit organization committed to being a catalyst for the content revolution. Evolving to meet the needs of a changing media landscape, NATPE through its many activities including exclusive videos, live streaming events and vibrant annual market is at the nexus of the multiplatform content world. Moving to Miami, a major international destination, NATPE 2011, January 24 to 26 is where creativity meets connectivity and commerce.
###