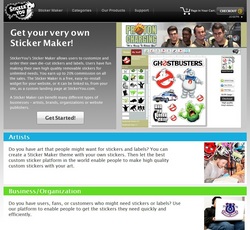 We want to make it easy and fun for any brand or website to engage their audiences with their own Sticker Maker so these users can create the highest quality stickers and make the brand really stick." Says Andrew Witkin President of StickerYou.
Toronto (PRWEB) February 8, 2011
StickerYou continues to revolutionize the Sticker industry by making it easy for any company to engage their users to turn art into stickers. The automated Sticker Maker represents the next generation of sticker technology on the web. A company can automatically upload their art or choose from StickerYou art themes and market them on either the StickerYou site or their own site using the Sticker Maker widget.
Stickers are about self-expression and every website has a unique audience that wants custom content given their lifestyle. Whether it be sports team stickers for sports sites, charity stickers for cause-related websites, kids stickers for a television show or an artist's stickers, end consumers are having fun making and ordering their own die-cut stickers using the Sticker Maker.
Some of the key features of the Sticker Maker include:

Creative Activity –The Sticker Maker is an easy-to-use online design tool for any website that enables users to choose the images, size, and the die-cut they want for their own stickers
Share Art With the World - Users can upload artwork and share it with the world. Whether it be a major brand or part time artist, anyone can turn their logo, art or characters into a sticker.
Simple to Embed in a Site – Using a few lines of code, anyone can have a Sticker Maker enabled on their site. Start offering cool stickers to website visitors, so they can put a brand art all over their stuff.
No Squares Here – No more boring square or circle stickers – create custom die-cuts on the fly that match the uniqueness of the art or logo.
Distribute Designs on the StickerYou site – StickerYou allows anyone to distribute their design to the masses. Users can share their designs with thousands of sticker lovers.
StickerYou Handles all Printing and Distribution – All one has to worry about is the design or selection of the stickers. StickerYou manages all of the printing and distribution of the stickers.
Affiliate program – Users can generate revenue from their site or art. Users can earn up to 20% royalties on sales of stickers
StickerYou is now inviting users to sign up for the beta program so they can get their hands on these new features and share some cool new stickers with the world. Users can sign up for the beta at StickerYou Sticker Maker Beta Signup. StickerYou has been defying expectations and growing at a record pace since its launch. "This launch marks a significant milestone for StickerYou. Our mission is to be the best custom sticker platform in the world. Now we want to make it easy and fun for any brand or website to engage their audiences with their own Sticker Maker so these users can create the highest quality stickers and make the brand really stick.", says Andrew Witkin President of StickerYou.
StickerYou has already partnered with countless international brands and is making it easier to launch activities with stickers. StickerYou recently launched a program with Sony Pictures Consumer Products to offer Green Hornet stickers to coincide with the launch of the movie. In an age where the pendulum has shifted to digital advertising, stickers offer a great way to create an offline impression for brands and artists. With the launch of the Sticker Maker, StickerYou has lowered the barrier to make and distribute custom stickers for the masses.
"We have had overwhelming demand from people wanting to not only make their own die-cut stickers, but also use their own custom content for the Sticker Maker on their site. We get hundreds of orders coming through with really unique designs that help express people's personality. We wanted to make it easier for sites that have unique content to have their own Sticker Maker by using our automated integration process. This will enable any brand or site's profile to sign up for free and quickly allow their fans to express themselves uniquely via stickers" , says Joseph Puopolo Vice President of Marketing and Business Development.
StickerYou is changing the world of stickers again with the automated Sticker Maker. The Sticker Maker will make it easier than ever for groups to engage, make and distribute stickers worldwide.
About StickerYou
StickerYou is the best custom sticker platform in the world. It's a fun, flexible and easy-to-use online technology for people to create their own high-quality vinyl stickers. StickerYou offers the ultimate freedom for anyone looking to create stickers with our freeform die-cut sticker printing technology. Whether you're using our art and brands, or uploading your own images, each sticker looks awesome! StickerYou is a Toronto-based startup that developed the Sticker Maker, a simple web-interface that allows people to order custom stickers. StickerYou has been quickly partnering and licensing with large companies to bring their brands to StickerYou.
Press Contact:
Joseph Puopolo
1-877-437-8825 ex 317
@StickerYou
###