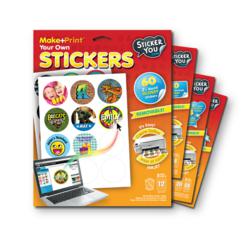 "Today's digitally savvy kids are transforming the toy industry with a passion for online creative play, and they demand products that allow them to personalize their world," says Andrew Witkin
Toronto, Ontario (PRWEB) September 08, 2011
StickerYou has just become the first website in the world to allow kids to design their own stickers and instantly print them at home via their exciting new retail product called "Make+Print Your Own Stickers". With the launch of this new product line, StickerYou is poised to revolutionize the sticker industry.
Each package of Make+Print offers glossy, blank sticker pages in a choice of shapes and sizes. Kids then go online to StickerYou.com to start creating. Using the award winning online Sticker Maker, they instantly access thousands of proprietary and licensed art images, and can even upload their own photos and images. They can also use the text and coloring tool that features a variety of fonts and special effects to maximize their creativity. And the ultimate reward is once they hit 'print', they have the finished product in their hands in just moments.
"Today's digitally savvy kids are transforming the toy industry with a passion for online creative play, and they demand products that allow them to personalize their world," says Andrew Witkin, President of StickerYou. "Before this product hit the market, there were no options for kids to make and print their own stickers. Now they can be very creative using our online Sticker Maker, while getting instant custom sticker gratification."
The Make+Print line allows kids and their parents to create something that is both fun and functional. They can personalize anything, whether it be their own name stickers for their gear, stickers to showcase their team logo, or images to personalize their birthday party. The options are endless.
Glossy and removable, the blank sticker sheets are mess-free and compatible with any inkjet printer. Available in circles, rectangles, hearts, stars (and even iron-on transfers), each package offers from 40-108 stickers and retails for $13-$15. Make + Print Your Own Stickers can be found at retailers throughout North America in September 2011.
About StickerYou
StickerYou is a fun, flexible and easy-to-use online web technology for people to create their own high-quality stickers. We offer the ultimate freedom for anyone looking to make stickers with our freeform die-cut or template sticker printing. Whether you're using our art and brands, or uploading your own images, each sticker looks awesome! StickerYou has been quickly partnering and licensing with such brands as Coca-Cola, Microsoft, Nickelodeon, DC Comics, and Star Trek among countless others.
###